Kelly Ripa returned Monday morning for the latest installment of Live with Kelly and Ryan, and finally revealed why she'd been absent for the past few episodes.
The show mixed in previously recorded and live-taped segments over the past week, with the show's DJ, Deja Vu, stepping in beside Ryan Seacrest.
WATCH: Kelly Ripa returns to Live with Kelly and Ryan
As soon as she stepped out onto the stage with Ryan, she was visibly sucking on a throat lozenge, indicating that she'd been unwell over the past few days.
When commending Deja for taking her spot, she shared that she'd been "so sick" for that time and had spent most of her days in bed, unable to even watch the show as it aired.
She then looked right at the audience as she declared: "When you get sick, and you have the audacity to test negative for everything…
MORE: Kelly Ripa's son shares latest photo that leaves his fans in awe
TRENDING NOW: Jimmy Fallon's unorthodox living situation with his family revealed
"And the doctor's like 'Maybe you just have a random thing,' and I go 'It's not a random thing because I'm clearly dying'."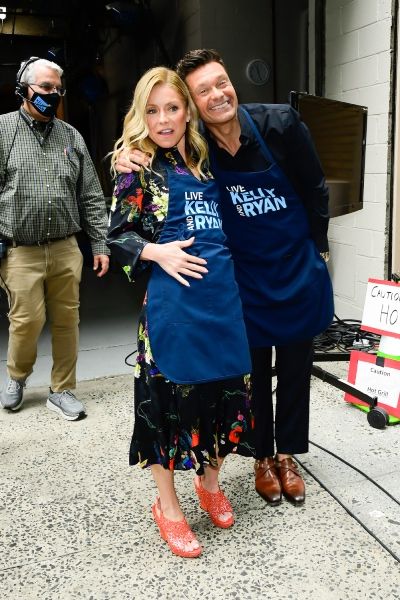 Kelly was too sick to host her ABC morning show
The members of the studio couldn't hold back their laughter as Ryan tried to keep a straight face, and Kelly even explained why she wasn't looking directly at him.
"You're maskless and I'm maskless, so you're really vulnerable, and I'm just a monster right now," she joked, even quipping at the top of the episode that she'd come back "too soon."
The All My Children star further talked about taking steroids to help while recovering at home, and said she was feeling up until the morning of her return, questioning: "Do I feel okay?"
MORE: Kelly Ripa reveals intimate New Year's Eve celebrations with husband Mark Consuelos
ALSO POPULAR: Gwen Stefani on baby number four: everything the singer has said
"And by then, it's too late to call in sick, because I'm here," she added, and Ryan reassured her by saying: "And just this much of you is better than none of you, Kelly."
While Deja has co-hosted the show before, subbing in for either of the co-hosts, she admitted on her recent stint that it always came with a bit of nerves.
https://www.instagram.com/p/CnE_QKpuhf9/
A post shared by LIVE with Kelly and Ryan (@livekellyandryan)
Deja co-hosted Live beside Ryan
"What's it like to be on the ground floor here?" Ryan asked, to which she responded: "It's cool, it's cool. It's a little nerve-wracking, but [EP Michael] Gelman gave me my pep talk, so I'm good," which he joked was the "nerve-wracking" part.
Read more HELLO! US stories here
Source: Read Full Article