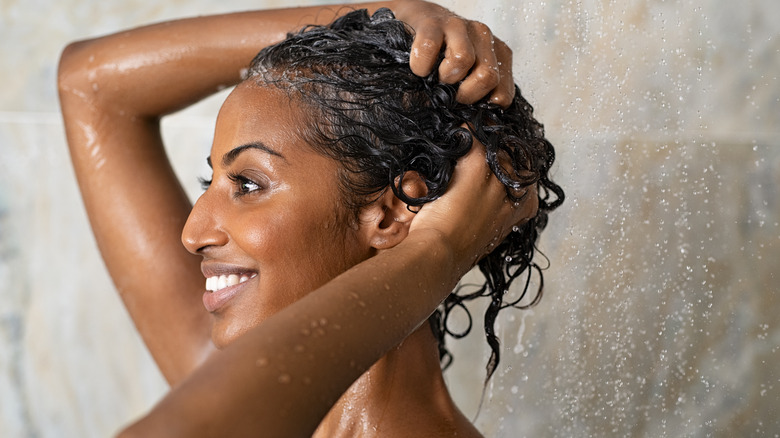 Rido/Shutterstock
By Camila Barbeito/Sept. 4, 2021 12:47 pm EDT
If you've ever worn your favorite little black dress only to find tell-tale white flakes all over your shoulders, you know dandruff can be deeply inconvenient… and absolutely infuriating. Once dandruff gets started, it's like it doesn't want the party to be over. The more you try to brush it out of your hair, the more flakes appear, ruining your near-perfect blowout for that first date or crucial job interview. Other times, dandruff is sneakier, only making an appearance once you're already out the door, and somehow ending up all over your navy wool sweater by lunchtime. And it's not just about the looks. Having a flaky scalp is itchy, irritating, and can even burn.
While dandruff is seasonless for some, it can get worse in the colder fall and winter months, accumulating as white, oily flakes that are difficult to get rid of (via Healthline). Whether you've always been a dandruff-sufferer or are new to the (not fun) game, you might see flakes because of a scalp yeast called Malassezia, an irritating hair product, having a condition called seborrheic dermatitis, or simply not shampooing enough. If your problem seems like the latter, shampooing with the right product is paramount to getting rid of your snow-topped scalp and shoulders for good. 
We've researched the absolute best 10 dandruff shampoos to get rid of the issue at the root (literally), and they don't disappoint. Say goodbye to flakiness, and say welcome home to a glossy, healthy mane and a soothed scalp.
Sulfate-free, color-safe dandruff shampoos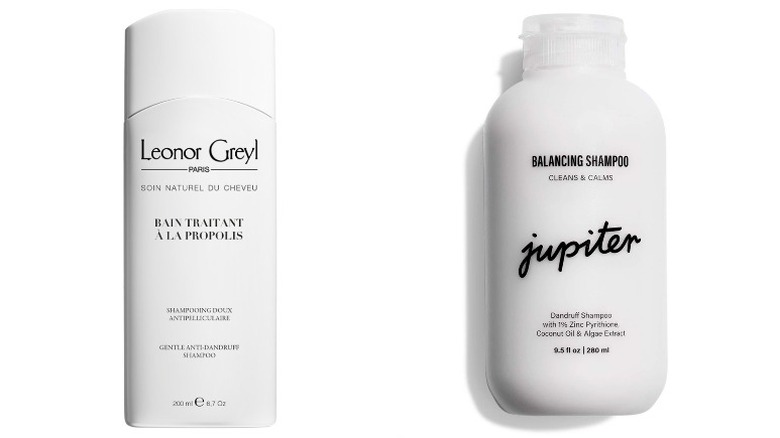 While dandruff is probably the major issue at the top of your get-rid-of-this-now list, you don't want to create more problems by getting rid of flakes. If you have color-treated hair, especially locks that have made a leap from dark-as-can-be to buttery blonde, your dandruff shampoo needs to be gentle. Thankfully, we've found two options that are color-safe, get rid of an itchy scalp for good, and let you wear your minimalist-chic black clothes with confidence.
First up, this luxe French Leonor Greyl Bain Traitant à La Propolis Gentle Dandruff Treatment Shampoo ($48), which is vegan, sulfate-free, color-safe, made of 93% natural ingredients and uses antiseptic bee propolis and wild pansy to soothe away dandruff and irritation. Marie Claire says this "delicate blend of botanicals" and "antifungals work in synergy to create a gentle wash that feels more like a treat than a treatment." Meanwhile, Popsugar recommends this shampoo for looking "so chic in your shower" while minimizing flakes, and a Glamour editor says it's the only thing that's made her "itch-free for the first time in almost a decade."
This Jupiter Balancing Dandruff Shampoo ($25) is another great color-safe, sulfate-free option, using flake-fighting zinc and moisturizing, antimicrobial coconut oil to eliminate dandruff. Per The Cut, this vegan shampoo's mint-vanilla scent will "mentally teleport you to a spa" and get "to the root of dandruff and irritation." Bustle touts this formula for how hydrating and nourishing it is, and Marie Claire suggests using it for chemically-treated hair.
Medicated, over-the-counter dandruff shampoos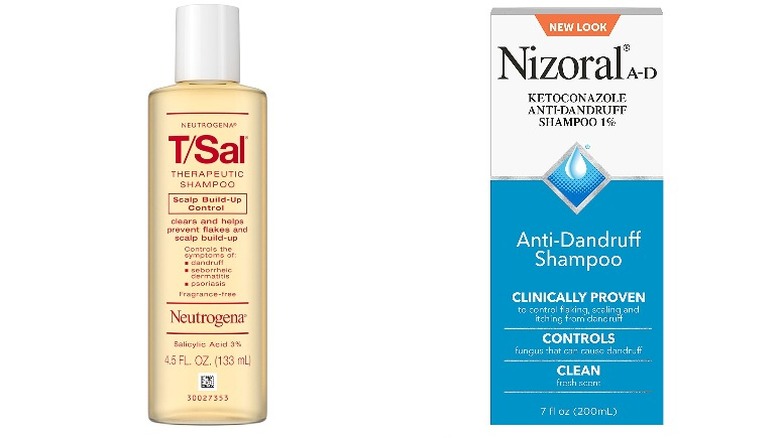 While we love the idea of salon-style dandruff shampoo, sometimes you need dermatologist-approved active ingredients to get the job done. If your flake won't quit no matter how hard you've tried, but you're not sure about going for prescription-grade dandruff medication yet, these shampoos might do the trick.
Neutrogena's T/Sal Therapeutic Shampoo ($6.18) is a cult fave for a reason. It uses clinically proven 3% salicylic acid, is preservative- and fragrance-free, and it's recommended by dermatologists to beat psoriasis, seborrheic dermatitis, and severe dandruff. It will break down "crusty build-up," with dermatologist Joshua Zeichner, M.D. telling Prevention that "salicylic acid is commonly used to help remove excess oil from the skin and flakes on the scalp." Per The Cut, this shampoo is "like a chemical peel for your scalp" and works just as well as prescription-medicated washes. Although it might dry out color-treated or brittle hair, this shampoo costs around the same as a cappuccino and can pull "double-duty as an acne facial cleanser, too."
Similarly therapeutic, Nizoral's Anti-Dandruff Shampoo ($14.84) contains the anti-fungal ketoconazole 1%, an ingredient found in many prescription-only formulas. It relieves "flaking, scaling, and itching," while being salon-tested to be gentle for color-treated or processed hair. CNN named it the Best Overall Dandruff Shampoo, saying this over-the-counter wash is great for "severe cases." Prevention raves about its "thick lather" and "clean scent," while dermatologist Neil Sadick told Allure that it reduces "inflammation and fungal growth, which is the root cause of dandruff."
Pyrithione zinc shampoos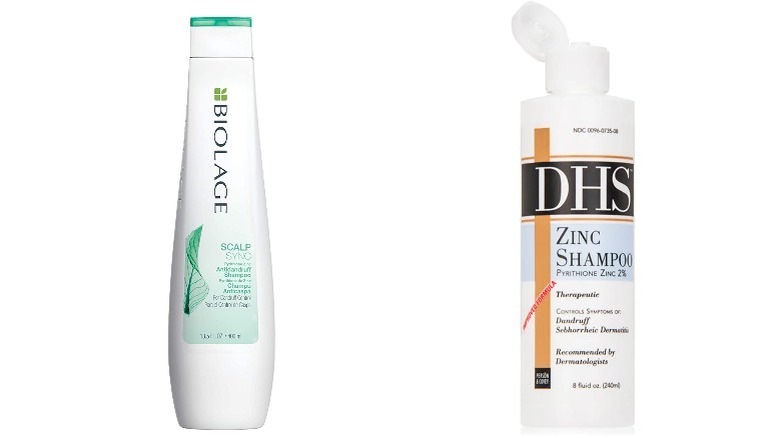 An over-the-counter powerhouse, pyrithione zinc is proven to get rid of flakes, scrubbing away build-up and preventing dandruff from forming in the future. A zinc-complex largely used for seborrhoeic dermatitis, pyrithione zinc is touted for its "antibacterial, antimicrobial, and antifungal properties" that help treat dandruff, psoriasis, and acne (getting rid of those hairline pimples, too), per Healthline. From chic and spa-like to dermatologist-recommended and seriously-gentle, here are the best we've found.
This Biolage ScalpSync No-Dandruff Shampoo ($20) features pyrithione zinc and the "antibacterial and calming properties" of mint leaf to give your scalp much-needed relief. According to Marie Claire, this is just like a "lush salon-like shampoo" that works overtime as "great medicine for the white, flaky skin cells you're shedding." Prevention describes it as a "creamy formula" that works "almost immediately" and "lathers up generously for a deep cleanse," so if you like all the foam, this one's for you. Thousands of Amazon reviewers agree: This is one of "the best anti-dandruff shampoos" on the market.
If you want something almost prescription-strength, go for DHS's Zinc Shampoo ($13.64). While Biolage's version features 1% pyrithione zinc, DHS's shampoo doubles the amount to 2%, controlling dandruff at the source. This dermatologist-recommended formula treats flaky scalps with full force while being soothing and nourishing to locks, and Marie Claire says this is the shampoo to try "when all else has failed." Dermatologist Melanie Pal, MD, told Health that this is great for "active flaking" and scalp acne or folliculitis.
Deeply-purifying shampoos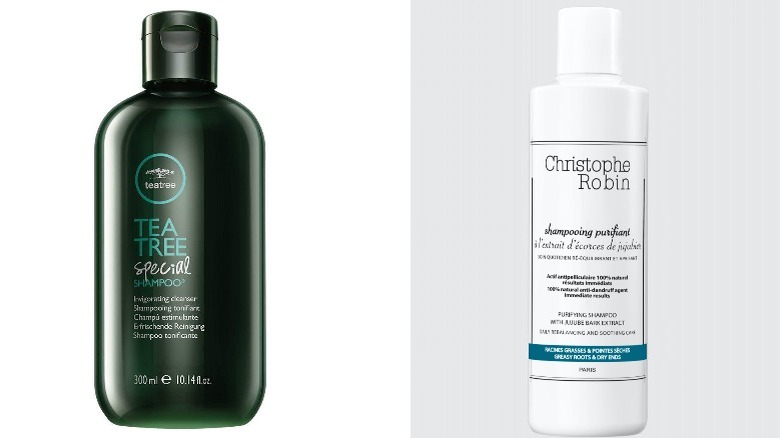 Although we tend to want it all, sometimes we have preferences: salty over sweet, summer over winter, strawberry ice cream over chocolate (divisive, we know). While deeply-hydrated strands are always a plus, some of us will take squeaky-clean, light-as-air locks over heavy moisture any day. Sure, we love both, but once in a while, it feels great to suds up with a purifying shampoo that leaves the scalp downright-tingly. If you need that clean, dandruff-free feeling stat, here are the shampoos to choose.
Paul Mitchell's Tea Tree Special Shampoo ($14.00) fights flaky scalps with refreshing peppermint and tea tree oil, a "natural antibacterial, anti-inflammatory… and antifungal" (via Medical News Today). Dermatologist Debra Jaliman, MD told Health that tea tree oil shampoos are great for "inflamed" scalps, working as an antifungal to "prevent dandruff." The Cut raves about this shampoo's "tingle complex" and its "reviving properties," while Allure describes the cooling sensation as a "zingy, get-your-scalp-right kind of clean."
Christophe Robin is a French salon-fave, noted for being both effective and chic. This Purifying Shampoo ($38) will put a pep in your step every morning, using jujube bark to "fight off dandruff" and "regulate excess sebum." Allure says this is the quintessential "anti-dandruff, but make it bougie" shampoo, while dermatologist Francesca Fusco, MD, tells the outlet that this wash "is good for not only dandruff but anyone with scalp issues including oiliness, flakiness, and even itchiness." It will also help break down buildup and moisturize, balancing out your locks.
Nourishing dandruff shampoos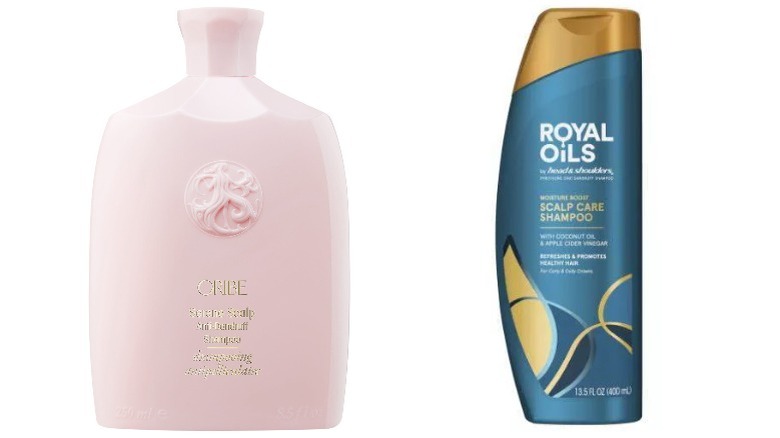 Conversely, if you want moisture but still want to fight flakes, there are two shampoos that get the job done best. We're talking deep-as-can-be hydration, suppleness, and zero breakage, with still major dandruff-cleansing action. Sounds too good to be true? Don't fret — they exist, and they're perfect.
Luxe, peony-pink packaging, and one of the most powerful formulas out there: Oribe's Serene Scalp Anti-Dandruff Shampoo ($46) looks amazing on your shower rack and uses exfoliating salicylic acid to combat flakes and itchiness. Popsugar says this caffeine-infused formula soothes "irritated scalps," and Good Housekeeping recommends it to anyone looking for a "perfume-like fragrance" with nourishing "proteins to strengthen and smooth hair." Oribe's signature complex wards off signs of pollution, and this formula includes bilberry fruit and sugar maple for natural quenching. It even has vitamin C for scalp stimulation (via The Cut), and CNN says it's "Insta-worthy," damage-preventing, and sulfate-free to boot.
A drugstore score that's just as good, Head & Shoulders' Royal Oils Moisture Boost Scalp Care Shampoo ($6.99) is a total winner in our eyes. As per Health, this formula was specially designed by Black scientists to cater to curly and coily hair, combining hydrating coconut oil with dandruff-fighting pyrithione zinc. Dermatologist Sumayah Jamal, MD told Self that it's great "for those who find many [over-the-counter] anti-dandruff products to be too drying to their hair," and Allure recommends this "ultra-rich and creamy" lather for anyone who doesn't want to take a chance on stripping hair of hydration.
Source: Read Full Article