Welcome to the LGBTeam, Deanna Daughtry!
The wife of Chris Daughtry is finally living her life as an out and proud bisexual woman, and she's telling her story in a powerful song she wrote for her husband's latest album, Cage to Rattle.
The couple opened up about the emotional "coming out" ballad in a new interview with People, revealing the unique collaboration came after the 46-year-old nonchalantly handed her rockstar husband a sheet of lyrics she'd written and told him to take a look at it.
The American Idol alum recalled:
"She basically said, 'If this inspires you, feel free to use it.' She kind of downplayed it and walked away, which made me want to read it even more."
Upon reading the words, the 39-year-old realized that his wife had handed him something that struck a chord. He shared:
"It just felt very real and very honest… I instantly started hearing the chorus in my head."
The It's Not Over singer quickly went to work on the song, but didn't share the track with his wife until he recorded a demo. Listening to it together for the first time was "a very emotional moment," according to the singer.
Now, Deanna's song, titled As You Are, is her husband's latest single off his album. Chris couldn't be prouder of the finished product — or his wife, for that matter.
He explained:
"I'm super-proud that she feels strong enough to be so open and honest about it. We're both after the same goal, and that's being our true selves to each other."
Until penning her song, only a handful of people were privy to Deanna's sexual orientation — Chris being one of them. Soon after the couple met in 2000, he learned that his future-wife had a relationship with a woman in the past.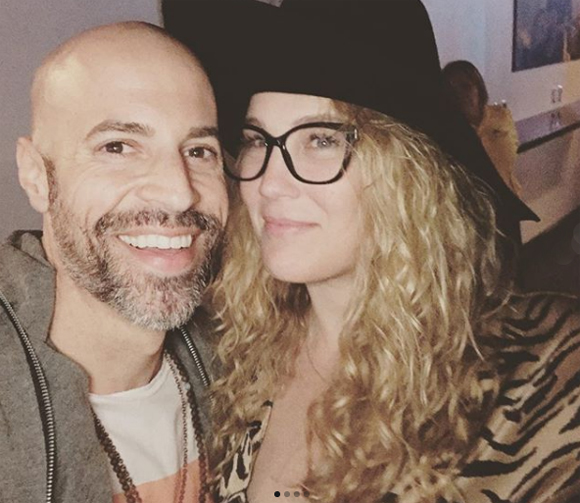 Daughtry said he "didn't care" when he found this out, explaining:
"I didn't feel threatened. I wanted her to be happy with who she was and not hide that or be ashamed."
As for why she's revealing her bisexuality now, Deanna said that opening up about it was simply a way to rid the feelings of shame and fear she felt for years.
She explained:
"I understand the fear of 'what if someone finds out and they're going to reject me?' Those are fears that heterosexual people don't need to worry about, and I've walked it."
After years of "hiding and shutting down a part of ," Deanna was finally able to come to terms with her bisexuality thanks to therapy. Once reaching this point of self-acceptance in 2015, she had the urge to put her feelings down on paper — so she started writing song lyrics.
She remembered:
"I really wanted to be vulnerable and say, 'This is who I am.' I love me. I hope you will love me, but if you don't, that's okay because I still have myself, and I do have people that love me as I am, and that's all I want."
Right after she finished the lyrics, her husband walked through the door of their home and she "had the guts to give it to him," she recalled.
The rest is herstory!
So inspiring! Take a listen to the powerful track (below)!
Source: Read Full Article