It looks like former U.S. President Donald Trump is eager to face Joe Biden once again. But this time, he wants the contest to be a boxing match. Trump's been busy with other things rather than tweeting after some social media platforms suspended his accounts in January. One of his areas of interests apparently now centers around in-ring fights. Per Insider, he's scheduled to be present at a celebrity showdown event on September 11.
This is not the first time that Trump has been associated with professional wrestling and fighting events. Per Tech Times, he has been part of multiple storylines at WWE and has been seen throwing punches in the ring. He also hosted two of WWE's events in 1988 and 1989. Trump's in-ring energy has not gone unnoticed — he was inducted by WWE to the celebrity Hall of Fame in 2013.
Trump's jibe at President Biden isn't the first of its kind. As noted by CNN, Biden had made a similar remark in 2018 about Trump over his comments on women. "They asked me would I like to debate this gentleman, and I said no. I said, 'If we were in high school, I'd take him behind the gym and beat the hell out of him," Biden told a satisfied crowd at the University of Miami. Years later, and with their roles reversed, it's Trump's time to taunt the President. But what exactly did Trump say about physically fighting Biden? Here's more on Trump's challenge to Biden.
Donald Trump said Joe Biden would 'go down very quickly' in a fight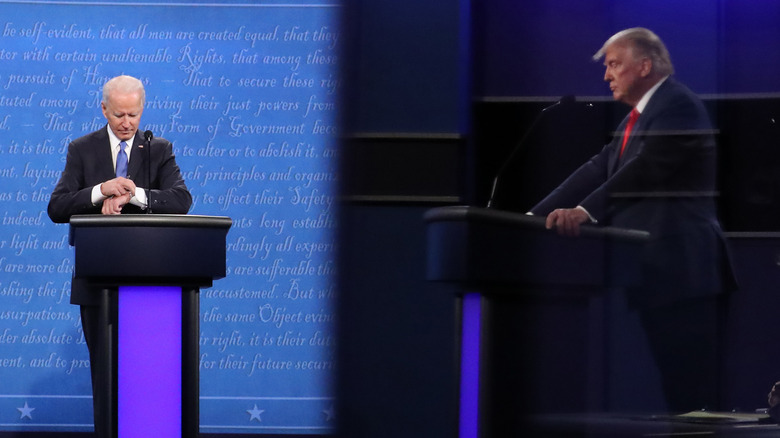 Donald Trump made his intentions clear in the pre-match media conference on September 9. Trump — who will be providing commentary for the event with his son Donald Trump Jr. — was asked who he'd fight if he had the option to pick any opponent on Saturday. 
"Well, if I had to pick somebody in the world, not only a professional boxer because I'd take a pass on the professional boxers — that can be a very dangerous subject," Trump said, per Insider. "If you said if I had to box somebody, I think probably my easiest fight would be Joe Biden because I think he'd go down very quickly." According to the outlet, Trump's response to the question drew loud applause from the people attending the media event. "He'd be in big trouble if he ever did," Trump added. "I think Biden would go down within the first few seconds."
Trump earlier confirmed his participation at the Saturday boxing event at the Seminole Hard Rock Hotel and Casino in Hollywood, Florida. In a statement made to Insider, he said that he loves "great fighters and great fights," and that he'll be looking forward to giving his thoughts ringside. "You won't want to miss this special event," he declared. Trump seems to have found a nemesis in Biden, but will the President respond to the challenge?
Source: Read Full Article