When revealing her battle with ovarian cyst, the wife of Justin Bieber confesses that it's 'painful and achey' and makes her feel nauseous and 'crampy and emotional.'
AceShowbiz -Hailey Bieber (Hailey Baldwin) is putting the brakes on rumors she's having a bun in the oven. The wife of Justin Bieber makes use of her social media platform to debunk pregnancy speculations by revealing her ovarian cyst bump.
On Monday, November 28, the supermodel posted a photo of her baring her stomach on Instagram Story. In it, she could be seen lifting up her gray sweatshirt a bit to expose a little bump on her torso.
"I have a cyst on my ovary the size of an apple," Hailey wrote over the photo. The 26-year-old beauty further shared with her 49 million Instagram followers, "I don't have endometriosis or PCOS but I have gotten an ovarian cyst a few times and it's never fun."
Hailey went on to stress, "Not a baby." The daughter of Stephen Baldwin then admitted that having ovarian cyst "is painful and achey and makes me feel nauseas and bloated and crampy and emotional."
"Anyways… I'm sure a lot of you can overly relate and understand," Hailey said near the end of her message. She then concluded her post as writing, "We got this," along with three peace sign emojis.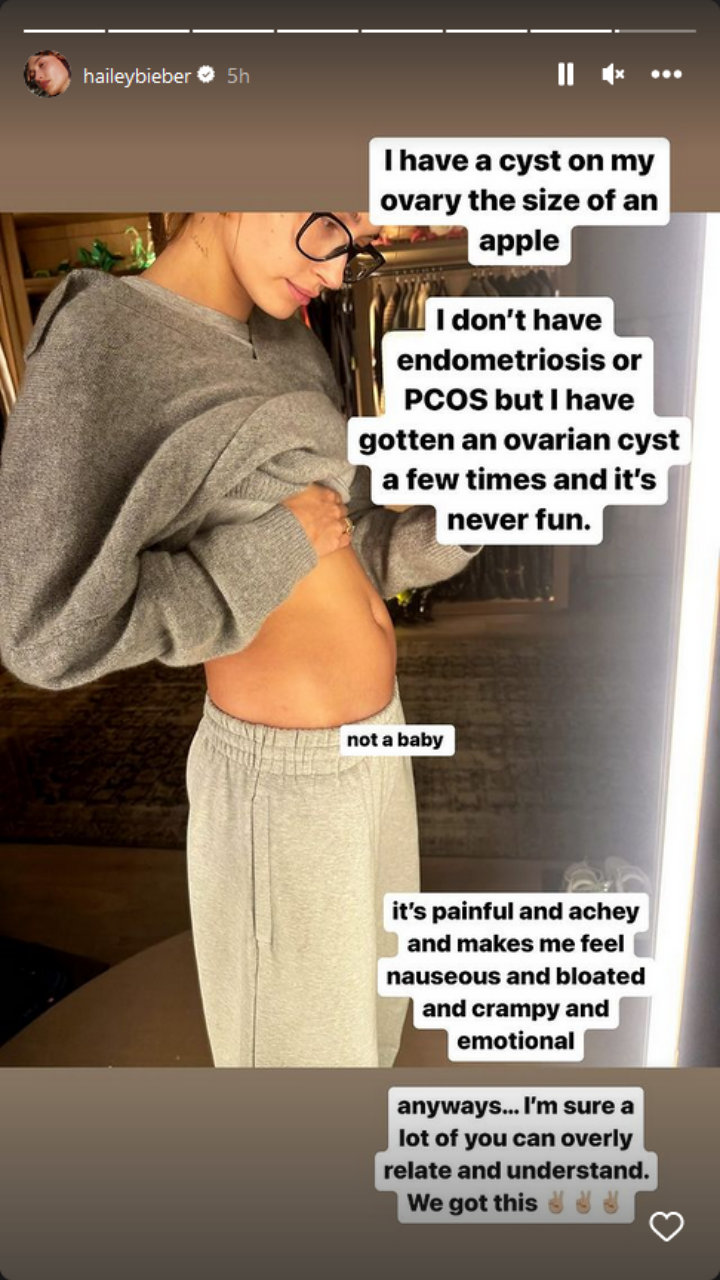 Hailey Bieber showed off her ovarian cyst bump.
Endometriosis, according to the Mayo Clinic, occurs when uterine tissue grows outside the uterus. Meanwhile, PCOS, Polycystic ovary syndrome, is the development of cysts along the outer edge of the ovary. In Hailey's case, she didn't provide information about the nature of her cyst.
Rumors claiming that she's pregnant emerged after Hailey and her husband Justin walked the red carpet at the 2022 Grammys which took place at MGM Grand Garden Arena in Los Angeles. For the award-giving event, Hailey looked gorgeous in a white flowy strapless Saint Laurent gown while Justin sported a white tank top, an oversized gray Balenciaga blazer and pants.
Many fans speculated that Hailey might have been concealing a "baby bump" under the flowing fabric. Taking to Twitter, one fan questioned, "Is that a baby bump?" to which another user replied, "I was gunna comment this."
A few days later, Hailey responded to the speculations. Turning to Instagram on April 5, she simply wrote underneath Radar Online's post, "I'm not pregnant." She also asked trolls to "leave me alone."
As for her health scares, Hailey has been open about them, including one earlier this year that led to a hospitalization. In April, Hailey shared that she experienced a "mini stroke" that led to the discovery of a heart condition. After undergoing a medical procedure to close the hole in her heart, she said she was "recovering well."
"I feel great," she said in a YouTube video. "The biggest thing I feel, honestly, is I just feel really relieved that we were able to figure everything out, that we were able to get it closed, that I will be able to just move on from this really scary situation and just live my life."
You can share this post!
Source: Read Full Article