Here's something surprising that you probably didn't realize: Julianne Hough and her (now-ex-) husband, NHL star Brooks Laich, were together for seven whole years! And while most of their time together was super sweet and mostly drama-free, that has sadly changed in the year of our lord 2020. (To be fair, 2020 has been testing all of us, so ¯\_(ツ)_/¯.)
At the start of this dumpster fire of a year, Brooks and Julianne had relationship troubles and just announced today that they've split. Reminisce about happier times, though, by walking through their romance below.
December 2013
And this is when it starts: Teddy Sears (yes, the actor from The Flash) hatches a sneaky little plan to set up Brooks and Julianne. Teddy tricks Brooks into visiting him in Los Angeles, and surprise! There's Julianne, who has literally never heard of Brooks or the fact that he plays ice hockey for the Washington Nationals. It's cool, though, because Brooks has no clue that Julianne's a Dancing With the Stars regular. The two hit it off, and it's love at first sight.
February 2014
A few short months later, and Julianne and Brooks are officially an item! An Us Weekly source confirms that Brooks and Julianne hit up Disneyland together hand in hand, sharing the occasional kiss. "They're having fun," their source says, while another source adds that Julianne is "happier than ever."
Around this time, Brooks and Julianne finally get paparazzi'd together: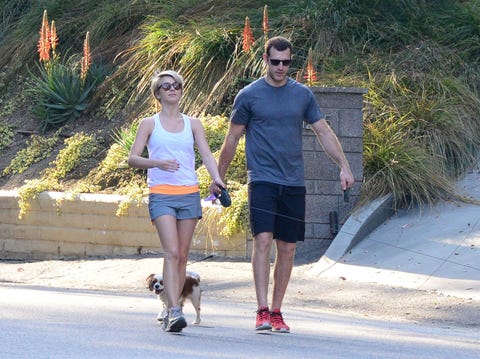 And Brooks also opens up about their relationship for the first time. During an appearance on Washington, D.C., radio station 106.7 The Fan, he says that Julianne's "a cool, cool gal. She's just a sweetheart, very loving, very giving. She puts so much great out into the world. I'm a pretty lucky guy." Awwwww.
May 2014
Be still, my beating heart—Brooks and Julianne head to the Open Hearts Foundation Gala, where they make their first official public appearance together. Julianne's a lil preoccupied with taking pics, but it still counts.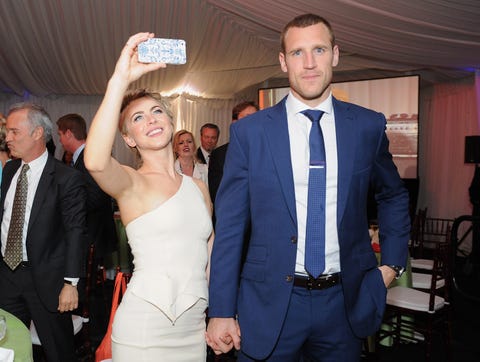 August 2014
Julianne then goes on the record and is surprisingly vulnerable about where her heart is in her relationship with Brooks. "Every [past] relationship, there was nothing wrong or bad, but there was nothing right," she tells Redbook. "Now, I'm not holding anything back because I'd rather get my heart broken than never know what it is to be completely, madly in love. If I had been this open in my last relationship, who knows?"
August 2015
After a little more than a year and a half of dating, Brooks pops the question to Julianne—they're engaged to be married! And damn happy about it, from the looks of it:
https://www.instagram.com/p/6h1J-qif7l/
September 2015
Julianne has the cutest thoughts on her engagement. "I'm just feeling so happy and blessed every moment of every day," she tells People after Dancing With the Stars' season 21 premiere. "My favorite thing about being engaged is just a sense of warmth and just joy."
February 2016
Not much happens between Brooks and Julianne after the engagement news since they're long distance. But Julianne reveals that the one thing keeping them strong during the time apart is—you guessed it!—phone sex. "I'm really bad at it," she says in her issue of Cosmopolitan. "I'll get halfway through and start laughing. It's an art. I applaud people who are good at it. They need to come and help me keep a straight face!"
July 2017
Brooks and Julianne tie the knot and become husband and wife. The couple's nuptials take place on July 8 with a fairy-tale-inspired outdoor wedding in Lake Coeur d'Alene, Idaho, where Julianne frequently summered as a child with her family.
"When I introduced Brooks to the lake, he fell in love with this special spot, and we knew this was where we wanted to raise our family and grow old together," she tells People. "It just felt right to be married here."
https://www.instagram.com/p/BWc9xS-Bcul/
https://www.instagram.com/p/BWkglrehwXz/
After the wedding, Brooke and Julianne go on the most enviable honeymoon vacay in the Seychelles. We get so many pics of them together, it almost hurts:
https://www.instagram.com/p/BWu4rCthQxF/
https://www.instagram.com/p/BWsURlKhBQ8/
https://www.instagram.com/p/BWpHUydBzjn/
https://www.instagram.com/p/BWnMJsXhKhE/
November 2018
Brooks and Julianne take the next step in their relationship—they have a baby! LOL, JK, a furbaby, silly. They adopt the cutest lil blue-eyed husky who was placed out of a home after the California fires, and he joins Julianne's two other dogs.
https://www.instagram.com/p/BqveBArAci1/
March 2019
Julianne hits up Instagram to gush about her husband for no particular reason except to say he's pretty much the best man she has ever met. She writes, "Brooks, my love, you have supported and nourished me and our relationship so that we haven't let our connection slip. You have been so intentional and have fed my spirit and my heart during this time and I couldn't be more grateful for you! You have been our rock! You have poured your energy in to me and have charged me with your love!"
https://www.instagram.com/p/BvcVN3OgB6r/
June 2019
Okay, for reals this time—Brooks and Julianne are thinking about starting a family! "My wife and I want to have children in our future, and going through IVF was a decision we made to increase the [odds] of that happening," Brooks tells Us Weekly. "I wish people would perceive it [that way instead of with] shame or guilt."
Brooks also tells Us that he wants to change the conversation around having children in that manner and is thinking of using his podcast, How Men Think, to do it. "We want to…attack things that are stereotyped or deemed sensitive or hush-hush."
August 2019
In Women's Health Naked Strength issue, Julianne says her marriage to Brooks gives her strength to be the truest version of herself. "I was connecting to the woman inside that doesn't need anything versus the little girl that looked to him to protect me….I was like, Is he going to love this version of me? But the more I dropped into my most authentic self, the more attracted he was to me. Now we have a more intimate relationship."
https://www.instagram.com/p/B0n2Ea9nquV/
And with that strength, Julianne says it made her able to come clean about her true sexual identity to Brooks. "I [told him], 'You know I'm not straight, right?' And he was like, 'I'm sorry, what?' I was like, 'I'm not. But I choose to be with you.' I think there's a safety with my husband now that I'm unpacking all of this, and there's no fear of voicing things that I've been afraid to admit or that I've had shame or guilt about because of what I've been told or how I was raised."
December 2019
After Julianne's admission, Brooks says he's feeling inspired to explore his own sexuality and even lists it as a goal of his for 2020.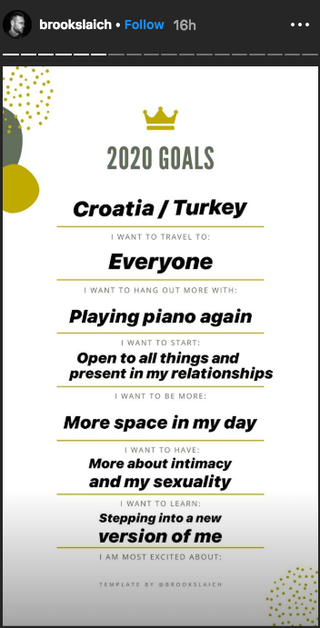 January 2020
An Us Weekly source reports that Julianne and Brooks "were having problems" with their marriage back in December. Meanwhile, People had more to report about Julianne and Brooks, with a source saying that "they've been having problems for months," because "she's very independent and a free spirit, and that's been tough for Brooks and their marriage." 😬
Yes, this is beyond upsetting because Brooks and Julianne are such a cute couple, but there is a sliver of hope they can work things out in the future. "It seems they are not giving up but also not talking about it. They want to do this their way. They don't want to discuss their marriage. They have been having problems, but many people do," a second People insider explains. "Maybe it's just a phase, maybe not. But either way, they are not going to address it publicly right now."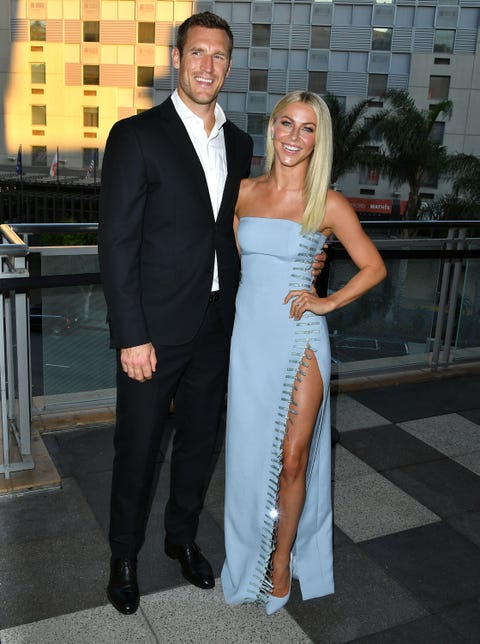 Sadly, this changes by the end of the month. Things don't get any better, because now, people in Brooks' circle are apparently telling him to focus on himself. "If it was up to Brooks, he would stay married," a source tells People. "And he is obviously still hoping things will work out with Jules." Julianne, on the other hand, "already has her own life that she seems happy with," but Brooks "keeps holding on."
Oh, and it doesn't help at all that Brooks posts this very sus passage to his Instagram:
https://www.instagram.com/p/B7pUFlFnCNQ/
February 2020
Looks like the lovebirds were able to work things out? That's what an Us Weekly source thinks, anyway. "Brooks and Julianne are totally fine and are working through any issues they previously faced," the source says. "At the end of the day, they love each other and they are still together."
April 2020
Coronavirus hits us all like a ton of bricks, forcing us all to quarantine and social distance with our families. But much to everyone's surprise, Julianne is instead going on a social distance stroll with Ben Barnes (aka Prince Caspian from The Chronicles of Narnia) in California.
Brooks, on the other hand, is with their dog in Idaho:
https://www.instagram.com/p/B-8N3SEnjT9/
And on top of that, Julianne posts a suuuper-cryptic post to her Instagram Stories that reads, "Never betray yourself to be loyal to others." Whatever that means!
May 2020
While it seems weird to literally everyone else, Brooks and Julianne are not at all bothered that they're quarantining without each other. Why? Because "they've largely been living separate lives for so long that it's just sort of more of the same: She's in her place doing her own thing, he's in his place doing his own thing. They're both staying fairly isolated on their own," a source tells People.
In fact, People's source says Brooks and Julianne are still together and that she "seems happy with how things are right now," sprinkling in the fact that "their relationship has always been like this though—they like to do their own thing." Cool-cool.
Unfortunately, this all reads like an omen, because Julianne and Brooks confirm a breakup on May 29.
"We have lovingly and carefully taken the time we have needed to arrive at our decision to separate," they said in a joint statement to People. "We share an abundance of love and respect for one another and will continue to lead with our hearts from that place. We kindly request your compassion and respect for our privacy moving forward."
June 2020
Yeah…Julianne's not doing so great after the breakup. She dyes her hair brunette in an attempt to move on, but it's not really working. An Us Weekly source says that "Julianne's not doing great right now and feels like her brunette hair is a reflection of her feelings…she is super upset."
"Julianne asked for a maple-brown color or her hair and wanted a look that was muted to match with how she's feeling right now," another source tells Us. "She doesn't want to be noticed or do press right now or get photographed. She's not in a good place. She wants people to look at her and feel empathetic toward her."
But even though Julianne's taking the divorce pretty hard, it low-key sounds like she's the reason it happened in the first place. Welp, at least that's what another Us Weekly source had to say. "Her actions are what caused her divorce with Brooks," the source says. "Brooks did not want a divorce, but he felt pushed toward it because of how Julianne was behaving. But Brooks is not the one who is bummed now."
And to add more salt to Julianne's wound, her friends apparently think she didn't do enough to keep him around. "Her friends think Brooks was an amazing, strapping dude and aren't sure why she let him go or messed it up," the source adds.
Brooks, on the other hand, is doing juuust fine. He "doesn't have anyone new in his life right now romantically speaking," so it looks like he's taking some time to work on himself before hopping into anything new.
July 2020
Welp, I guess the split wasn't as bad as the sources made it seem, because Julianne and Brooks decide to spend a little bit of time together on her birthday! For her 32nd, Julianne hosts a pool party, and in addition to her BFF Nina Dobrev, Brooks is right there with her as if they didn't file for divorce two months ago.
Here's proof: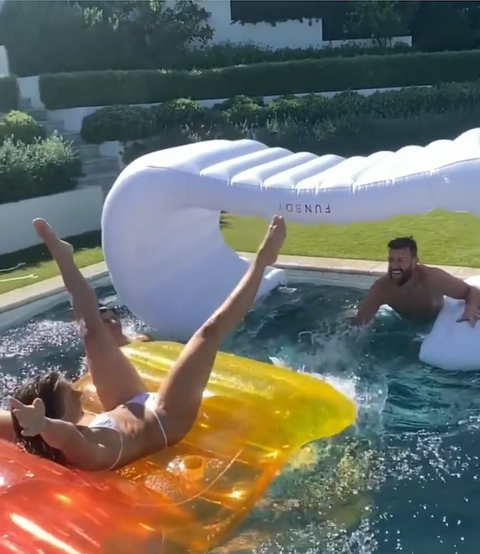 November 2020
Though it seemed like that party was a sign that Brooks and Julianne got back together, four months later that is no longer the case. According to The Blast (via Us Weekly), Julianne has officially filed for dissolution of marriage in a Los Angeles court on November 2.
For what it's worth, though, they actually tried spending time and being amicable with one another before the filing. According to Us Weekly, that extra time spent with one another resulted in "a lot of back-and-forth moments" since they ended things, and proved that their marriage is over forreal.
"Julianne and Brooks just can't get past their problems," Us' source said. "Julianne had a dinner party with friends a few months ago, which Brooks came to. They were trying to be lovey-dovey with each other and have a good night with a few friends, but Brooks ended up bringing up some of their issues in front of everyone and it became a big fight." Er, yikes.
Meanwhile, Brooks opened up about expressing himself in a healthy way after feeling "unemotional in personal relationships."
"I cry all the time and it's wonderful. It's something I've recently learned since the passing of our two dogs," on his How Men Think podcast with Gavin DeGraw. "I've learned how to honor emotions in the moment and let them come up and through me and out of me, and a lot of times that's through crying. And you know me…I played pro hockey for 15 years, threw dudes into dudes. I'm a dude. But I love being able to release emotion truthfully, organically, in the moment [and] not suppress it."
This officially brings us up to date, but from what it looks like, it won't be the last time we'll be hearing from Brooks and Julianne. In conclusion: Stay tuned, folks.
Source: Read Full Article