Less than one week after the once-beloved comedian and actor Bill Cosby was released from prison after his conviction was overturned due to a technicality, the former star of "The Cosby Show" has become, for the second time, a subject of controversy, anger, and for a select few, a cause for celebration. 
While a number of high profile figures have since spoken out against his vacated sentence — among them, Dylan Farrow, Mariska Hargitay, and Kid Cudi — others, like Cosby's former sitcom costar Phylicia Rashad, were overjoyed with the news of his court-mandated jailhouse exit. While it's not entirely surprising that celebrities like Farrow or Hargitay would voice their dismay over Cosby's overturned verdict due to their work as activists against issues like sexual assault, domestic violence, and child abuse, one of the latest famous people to voice their opinion about Cosby's freedom seems a little out of left field — that is, until you know the reason why.
So what did "The Wrestler" star Mickey Rourke have to say about Cosby and his release? And what's the reasoning behind his decision to speak out publicly? Keep on scrolling down below to find out all the answers.
Mickey Rourke alleged Bill Cosby assaulted a past girlfriend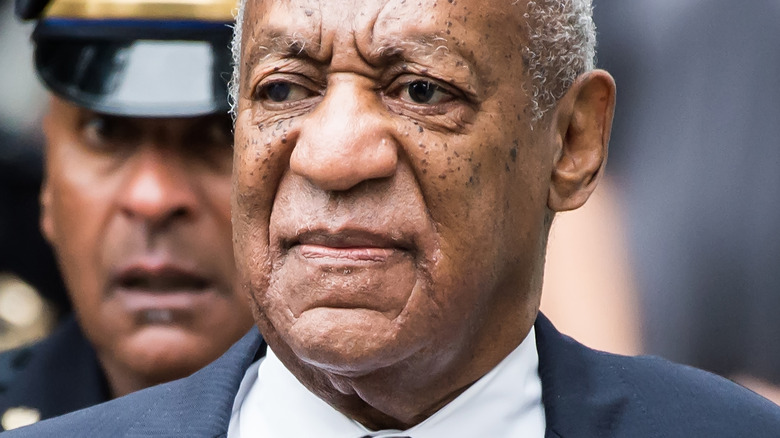 On July 2, Mickey Rourke joined the chorus of responses to the overturned conviction and vacated sentence of Bill Cosby — who allegedly sexually assaulted as many as 60 women during his once-storied, decades-long career — with a shocking and powerful Instagram post. In the post, Rourke revealed that Cosby also purportedly attacked a woman he was dating approximately 20 years ago, whose identity the star chose not to disclose. 
Rourke's account is graphic in nature, and describes how Cosby introduced himself to the woman, who at the time was an aspiring performer, and that he invited her to his house under the pretense of having a meal with both the comedian and his wife. "[H]e answered the door walked her into the living room, one of the first things he said to her was my wife's not here right now, she had some sort of business to attend to," Rourke wrote. Cosby allegedly then proceeded to drug and assault the woman. After the incident, Rourke stated that he urged his then-girlfriend to report what had happened.  "I was looking at her out of my mind saying why didn't you tell somebody," Rourke wrote in the post, "[and] her answer was who'd believe me, he is a big famous star and I'm nobody." Per Rourke, the woman was not one of the many who came forward against Cosby. "I hope … he falls and breaks his f****** neck," he bluntly concluded.
If you or anyone you know has been a victim of sexual assault, help is available. Visit the Rape, Abuse & Incest National Network website or contact RAINN's National Helpline at 1-800-656-HOPE (4673).
Source: Read Full Article