Mama June's loved ones fear she will die if the reality star doesn't seek help for her drug addiction.
A new clip from the finale of WEtv's Mama June: From Not to Hot shows a dramatic look at the family staging an intervention for the embattled pageant mom, where they beg her to go to rehab for what looks like a severe crack cocaine addiction.
Emotions come to a boil as daughter Honey Boo Boo (real name Alana Thompson) tries to give her mother a reality check, telling June through tears that she's been staying at her older sister Pumpkin's house — "not by choice," Alana insists — as the 39-year-old gambles her life away with her felon boyfriend Geno Doak.
As you can see in the clip, obtained by TMZ, a chip-toothed June gets super defensive as her family urges her to turn her life around so she stays alive long enough to watch her children grow up.
The intervention comes after June got busted for crack cocaine possession back in March with Geno. June and Geno have reportedly been shacking up at an Alabama casino over the past few months, while her 13-year-old daughter has been left in the care of her 19-year-old daughter.
Based on the recent previews, June looks nothing like she did when From Not to Hot first aired: in a previously released clip of the family intervention, the pageant mom's teeth are falling apart, and she collapses on the floor.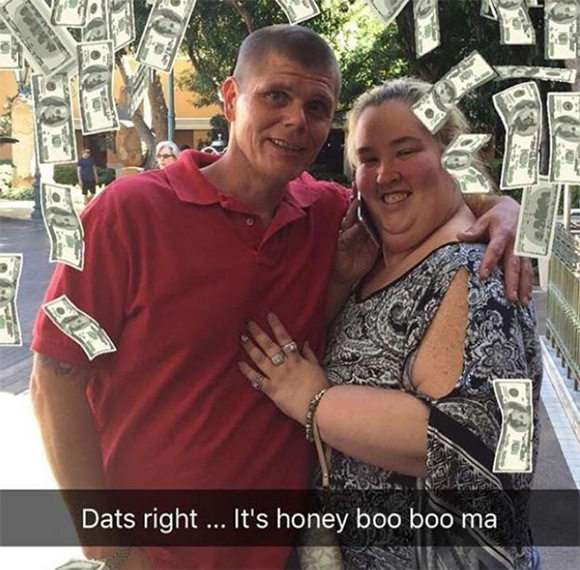 The family now believes that time is running out to get June the help she needs. As Pumpkin explained in an interview shown in the clip:
"If this intervention doesn't work, she's either gonna wind up in jail or she's gonna die."
TMZ reports that Geno wasn't present for the intervention… which is interesting, seeing as Pumpkin suggests that he cheats on June when she's not around.
Do U think the family can convince June to quit gambling on her life and go to rehab?
Head over to TMZ to watch the new clip. Then watch Watch the Not to Hot finale — airing Friday night at 9 p.m. on WEtv — to see if the family succeeds.
Source: Read Full Article