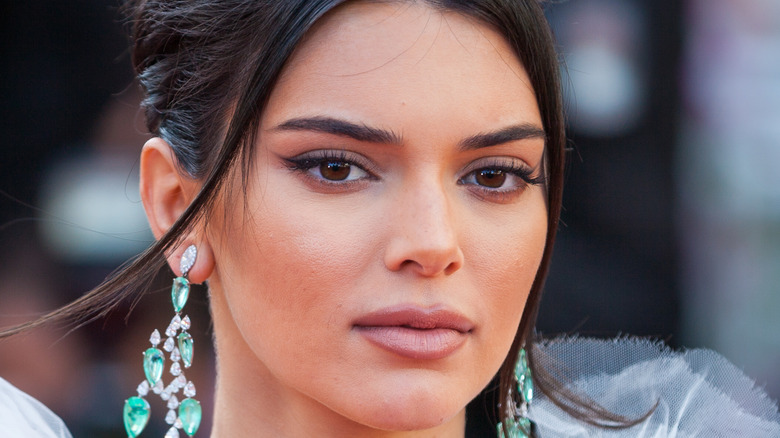 Kendall Jenner prefers to stay in Incognito Mode, especially when it comes to her glitzy affairs and relationships. The cameras that continue to tail her throughout her life are minor obstacles, but the end of "Keeping Up With The Kardashians" on E! probably cut back a few shutters. 
Surprisingly, the reunion episode is where we saw Kendall open up the most about the people she's dated. "No offense to my older sisters at all, but I think that Kylie [Jenner] and I specifically have had the opportunity to watch our older sisters go through marriages and relationships and break-ups and do them pretty publicly," Kendall explained, per E! News. "It was personal preference from a really young age. I feel like it's always worked better for me that way."
Kendall has never really addressed her relationships, whether it was her on-again-off-again situation with Harry Styles or the time she spent with Ben Simmons. However, the model talked about the Phoenix Suns player she's been seeing for much of 2020 and into 2021. She officially titled her relationship with Devin Booker to Andy Cohen: "He's my boyfriend."
Kendall and Devin had a quarantine romance
Kendall Jenner and Devin Booker were first seen having dinner together in 2018 (via TMZ). However, at the time, Jenner was with Ben Simmons and Booker was seeing Jordyn Woods – and they were all at the table. A two-year time skip after the double-date later, Booker and Jenner went on a quarantine road-trip in Arizona together (via TMZ). 
A source told TMZ that they were just friends, adding, "Kendall and friends have a small social circle amongst the group, who have been following the same social distancing and physical distancing guidelines. Devin is a friend and is part of the small group. They took a road trip for some much-needed air."
That didn't stop the rumors of course. Quarantined onlookers had a lot more time on their hands, with one user implying Jenner's possible romance with Booker was just an instance of her being "passed around" by NBA players. Jenner's shut the commenter down by writing, "They act like i'm not in full control of where i throw this cooch,"(via Instagram).
Kendall and Devin started spending more time together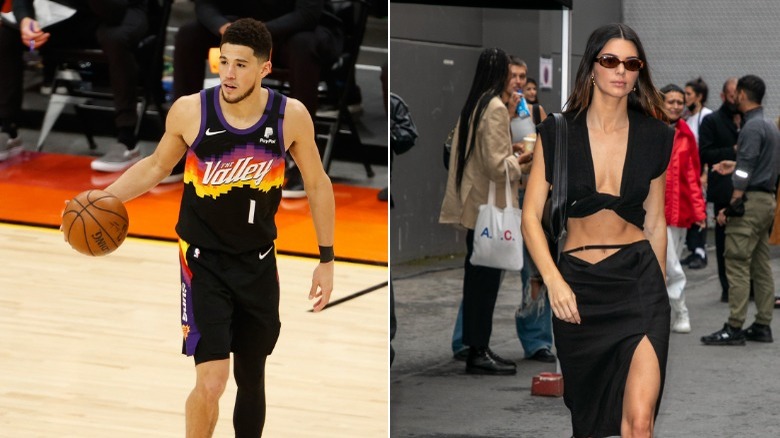 While nothing was confirmed between the two, their next outing together did not take another two years. 
In August 2020, Kendall Jenner and Devin Booker visited the unofficial celebrity haunt, Nobu (via E! News). A source told the outlet, "It was a very casual outing, but it seems they are spending more time together for sure and getting closer," while another source said Kendall was "excited to have him out in L.A. so they can spend some in-person time together … They have been staying together and hanging out in Malibu with friends and family."
While we didn't have much else to work with, we'd like to thank the Instagram sleuths who zoomed so far into a picture of Kim Kardashian's birthday party in October that they found Jenner and Booker hanging out in the blurry background. They definitely looked happy, but who wouldn't be when you're at a private party, on a private island with your lover? 
Kendall and Devin are Instagram-official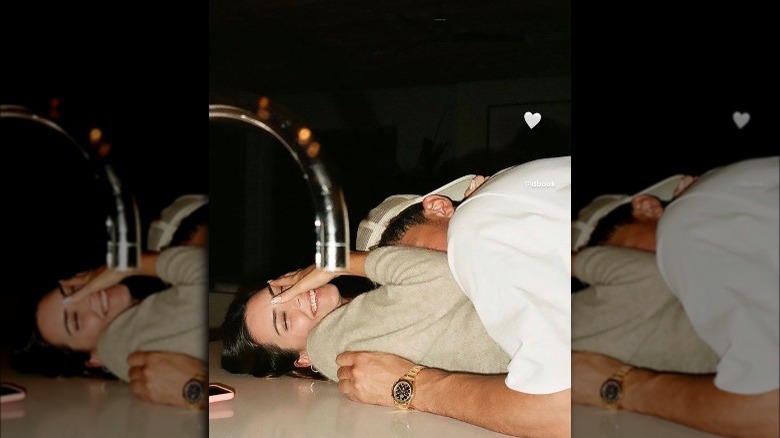 The confirmation we were all waiting for arrived in January 2021 when Devin Booker reposted a picture of Kendall Jenner sunbathing on his Instagram Story. Kendall, clad in an orange bikini, looked striking against the clear blue water opposite her. Booker had just one word to add to the repost: "Whew, 😰."
Jenner didn't take too long to post him back. On Valentine's day, she posted a super cute photo of the two while Booker posted a black-and-white picture of them lounging on a beach towel (via People). Both had a polaroid quality to them. Soon after, she publicly attended a Phoenix Suns game to support him. 
An Arizona State University student happened to be seated near Jenner and asked her to take a picture of him and his friends. Jenner airdropped the picture to him, and the student tweeted, "Feels nice knowing I'm either in Kendall's photos or will be in the recently deleted for 30 days." Ah, fame always finds you in unexpected ways.
The Kardashians love Devin an welcome him into the fold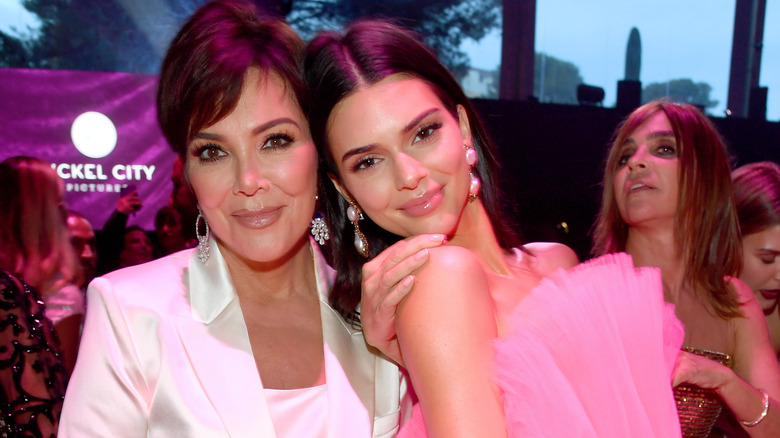 Declarations of love on Instagram aren't frivolous affairs; Kendall Jenner and Devin Booker were definitely not going on a deleting rampage in the near future. 
A source confirmed to Entertainment Tonight, "Kendall was ready to take her relationship with Devin to a more public level and get rid of any unnecessary speculation in the media … She felt ready to share a bit more than she has in the past when she posted the photo of them on Valentine's Day." The source also added, "Their relationship has gotten more serious and Devin is really laid-back and not all about fame or being in the spotlight all the time, which Kendall really likes … He makes her feel comfortable and safe and he's super respectful, which are all qualities she loves."
Incidentally, those happen to be qualities that America's favorite reality family loves too. A source told Us Weekly, "The Kardashian clan is fond of him for sure … They've gotten to spend a lot of time with him and find him very charming, respectful, and fun!" Ultimately, they want her to just "enjoy these moments" and "be happy with whomever she's with."
Devin doesn't like the spotlight, which Kendal can relate to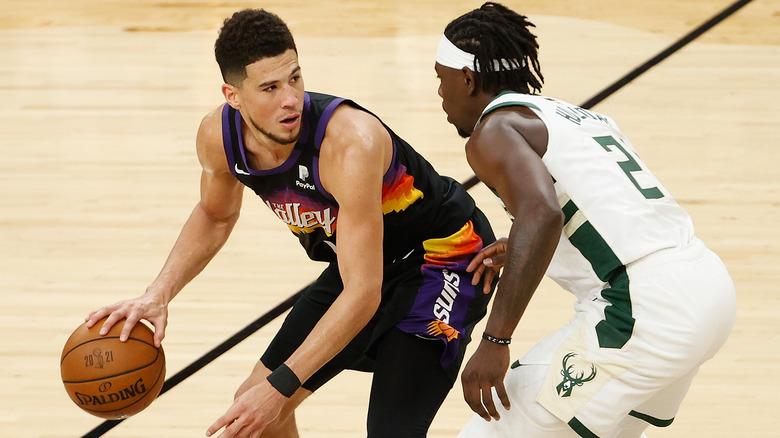 And according to an E! News source, "This is the happiest Kendall [Jenner] has been in a relationship." The source added, "Devin [Booker] is quiet and not interested in being in the spotlight or a celebrity. She really appreciates that about him and is attracted to that. They are really similar and love just being low-key and staying in and laughing together."
In fact, in early 2021, "KUWTK" producer Farnaz Farjam revealed to Bravo TV's "The Daily Dish podcast" that Jenner preferred to keep her boyfriends out of the limelight. "Kendall's always had this rule, which she felt like she had to be with someone for at least a year before she lets them be a part of the show and in the show," she explained, adding, "Because she doesn't always know what people's intentions are. So that's why we kind of kept her personal life out of it, just because she had a rule." It's almost like "KUWTK" ended just so that Kendall could break her own rule.
Kendall and Devin have "practically moved in"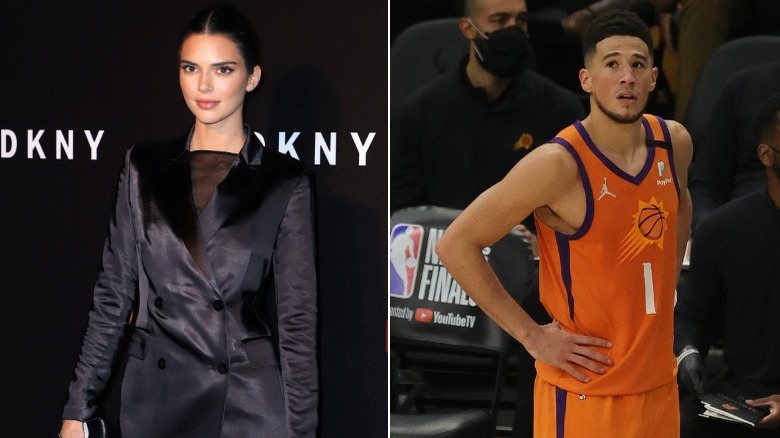 If you were one of the few (million) who clicked through Kendall Jenner's Instagram stories on June 13, you would've seen a series of stunning landscapes captioned with numbers '365', '52' and '1' as a nod to their first anniversary together (via People). Both Devin Booker and Jenner posted photos of each other on the day, giving us a glimpse into their celebrations. Booker's final golden hour shot took us to the waterfront outdoor restaurant they were at.
Both the model and NBA player could also be inching towards taking the next step in their relationship. An insider told Us Weekly, "He's practically moved in with her." The source continued, "They really respect each other's careers and give each other space to focus on her modeling or his basketball career … That's probably what makes their relationship work so well is that they have that work-life balance."
We're here for the subtle Instagram PDAs as the "it couple" continues to fall more and more in love. Keep checking back for updates!
Source: Read Full Article