Meghan Markle is really racking up the miles—not only did she just make an appearance in New York to watch Serena Williams play at the US Open, but later this month she, Prince Harry, and baby Archie Harrison will be visiting Africa on a royal tour. The couple hasn't given out their exact itinerary yet for security reasons, but we do know that the tour will be ten days long and will cover four countries.
And even though we're all very excited for some new pics of Archie, it looks like he won't be as big a part of the royal tour as we thought. A palace source recently told Harper's Bazaar, "the couple hope to include Archie at some point in the program…but it's difficult to say when because he's five months old."
Meghan and Harry are also splitting up the trip a bit—while Harry visits Botswana, Angola, and Malawi, Meghan will reportedly remain in South Africa with Archie and a nanny. It seems like part of the reason why Megs and Harry aren't making the whole trip together, according to Vanity Fair, is because Harry is traveling to parts of Africa where malaria is a risk, and aides say the 12-seater charter flight he's taking would be "impossible to do with a young baby."
Plus, again, Archie will only be five months old and will be the youngest royal to go on such a big tour. Even though William and Kate took Prince George to Australia and New Zealand as a baby, he was ten months old at the time. Still, George was old enough to give us one of the most iconic gifs of all time, so Archie has a lot to live up to!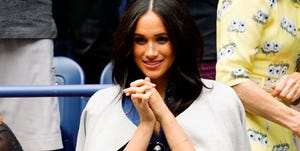 Source: Read Full Article