Miley Cyrus will not be slut shamed!
As we reported, when the She Is Coming singer was in Barcelona to perform at the Primavera Sound Festival, a fan reached out, and grabbed her hair in an attempt to kiss her. Per video footage, Cyrus then attempted to turn away from the groper as her security stepped in to help. Additionally, husband Liam Hemsworth turned around to put an arm around his wife, as the two safely got into their car.
On Tuesday, the former Hannah Montana star spoke out about the incident on Instagram Story, and slammed haters who suggested Cyrus "asked for it" by the way she was dressed.
While posting a clip of the incident, the songstress wrote:
"She can be wearing what she wants. She can be a virgin. She can be sleeping with 5 different people. She can be with her husband. She can be with her girlfriend. She can be naked."
Additionally, while sharing a clip from The Talk where the hosts discussed the event, Cyrus penned:
"She CAN'T be grabbed without her consent… #DontF**kWithMyFreedom."
"Don't f**k with my freedom" is a lyric from her new song Mother's Daughter.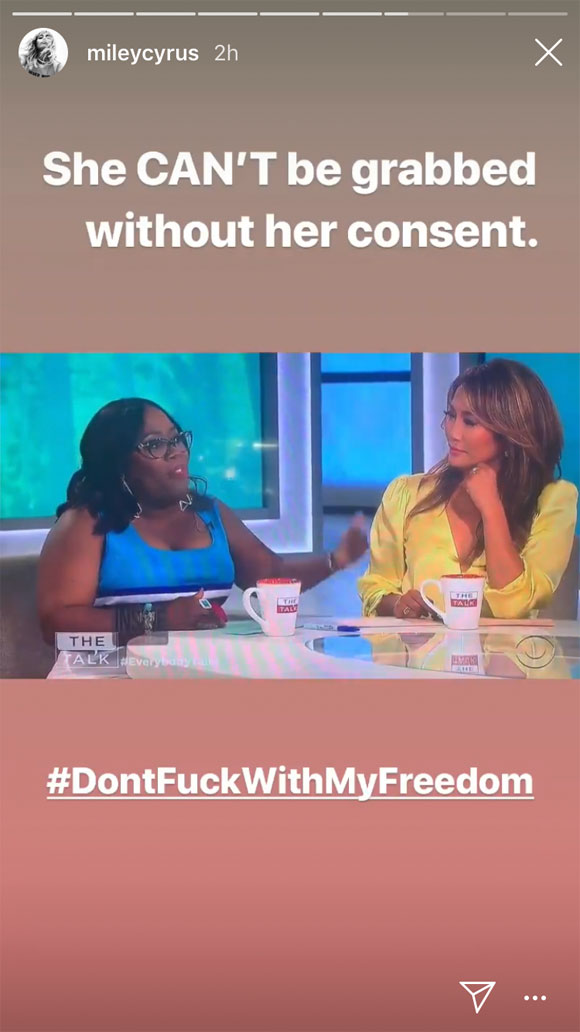 Lastly, the 26-year-old posted a screenshot of comments from trolls, who suggested her "sexy" attire somehow justified the Barcelona fan's inappropriate behavior.
The haters wrote:
"You wanted to be 'sexy,' what do you expect?'"
"Was it DONALD TRUMP?lol"
"Well what do you expect when they dress like whores and I like some of her songs."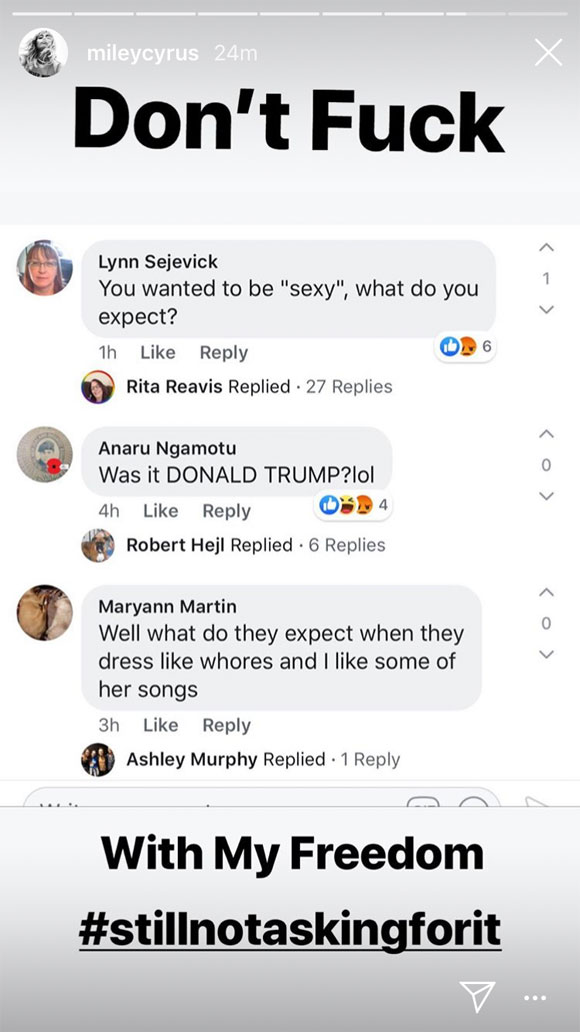 Last Friday, the Malibu singer just dropped her highly-anticipated EP, which featured production from Andrew Wyatt, Mark Ronson, and Mike Will Made-It.
Prior to this, the artist debuted three of the songs — including Cattitude and D.R.E.A.M. — to an excited crowd at BBC Radio 1's Big Weekend in the United Kingdom.
Music aside, Cyrus will appear in an upcoming episode of Netflix's Black Mirror, which drops  on June 5. In a Vanity Fair interview, she spilled:
"This is the story of females in the music industry. I understand everyone's gone through this but I do think for females in the industry… it's hard to be taken seriously. People assume that if you're not wearing a body suit and singing pop music, why would anyone want to see you."
Thoughts?
Source: Read Full Article