Prince Harry is still on friendly terms with his ex-girlfriend, actress Cressida Bonas (at least that's the vibe I'm getting from her being invited to his wedding), and she's not about to chat about all his recent royal drama.
ES Magazine asked Cressida if she felt for Meghan Markle given all the scrutiny she's under, and she didn't seem particularly here for the question, saying "I wouldn't take a position on that because it would be a headline. Also out of respect. It feels like a long time ago. When it comes up, it feels strange because I'm in a different place."
She continued, "No one likes to be labelled. The hurdles for me are when I'm trying to do my work and people want to talk about him. I work very hard and love what I do, but it is still something I have to contend with."
Cressida is a succesful actress, and recently announced her engagement to her boyfriend Harry Wentworth-Stanley. As a reminder, she and Prince Harry haven't dated for years, but in case you're interested, they were together from 2012 to 2014 after being introduced by Harry's cousin Princess Eugenie. Again, Cressida was at Harry and Meghan's royal wedding, so clearly there's no bad blood between them!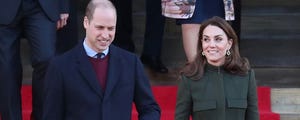 Source: Read Full Article