Prince William might not have the same kind of military experience that his brother Prince Harry had during his two tours of Afghanistan (along with a career that spanned over 10 years), but the future king of England still completed a 44-week course as an Office Cadet and was made an Army officer in December 2006, according to The Guardian. He then joined the Household Cavalry before getting promoted to the rank of a lieutenant the following year. William also worked as a pilot with the East Anglia Ambulance before retiring in 2017.
William is still very much a part the military community, having last visited the RAF Akrotiri Cyprus military base in 2018 to thank the forces for their commitment, as detailed in Harper's Bazaar. While speaking about his own military role in 2009, Prince William said, "As far as I'm concerned, in my eyes, if Harry can do it, I can do it. As a future head of the Armed Forces it's really important you at least get the opportunity to be credible and to do the job I signed up for the best I can. That's all I have ever wanted," according to the Associated Press.
That might be one of the reasons why William took an extraordinary step to help a friend's family escape Afghanistan, following the U.S. military's withdrawal and Taliban takeover. 
Prince William's heroic efforts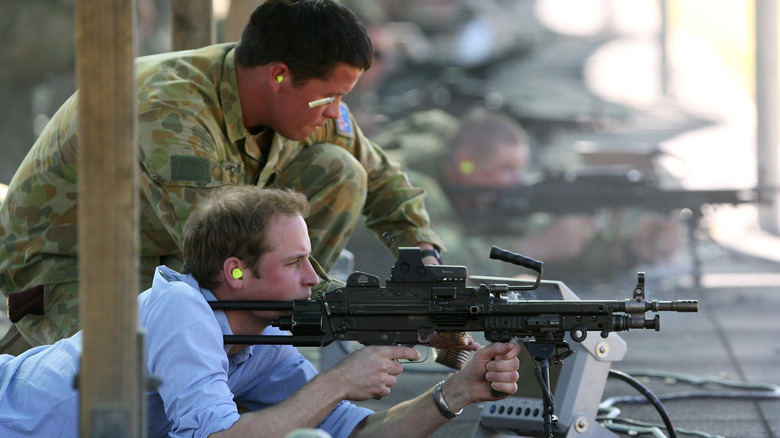 According to the Evening Standard, Prince William took an extraordinary step to help a friend get his family out of Kabul, the capitol of Afghanistan. William managed to pull some strings to help the family of an Afghan officer that he knew at the U.K.'s top military academy, Sandhurst. Despite the chaos at the Kabul airport — including an attack that left 13 U.S. service members and 170 Afghans dead — William reached out to Naval officer Rob Dixon to intervene on his behalf. After a few phone calls, Dixon got the former cadet and his family out and onto a flight headed to the U.K.
Ex-paratrooper Major Andrew Fox, who served three tours in Afghanistan, praised William for taking action. He told The Telegraph, per the Evening Standard, "I myself got 2 Para to rush out into the crowd and grab someone for me. It's fully in line with what we get taught in the Army in terms of values, loyalty, respect for others, all that good stuff. We're trained to help where we can. The situation was so chaotic … that people would do whatever they could to get out."
This isn't the first time William has been hailed a hero. In 2012, William saved a teenage girl who almost drowned off the coast of Wales during a helicopter rescue, per CNN. The British monarchy sure is lucky to have a real-life hero as the second-in-line for the throne, right?
Source: Read Full Article