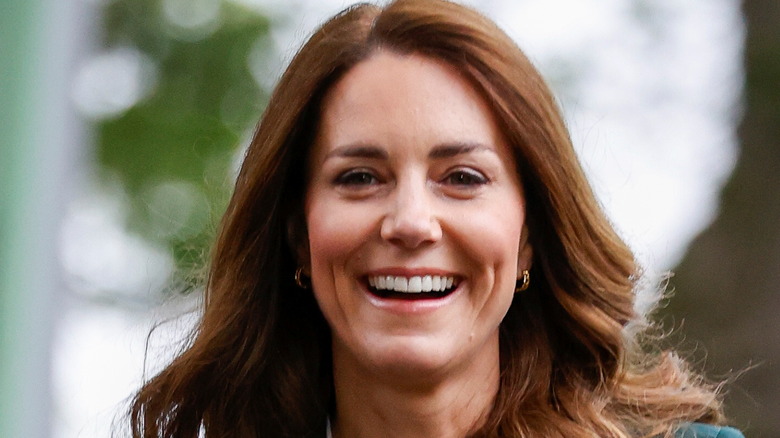 The royal family has had its fair share of ups and downs this year, to say the very least. From Prince Harry and Meghan Markle's jaw-dropping tell-all interview with Oprah Winfrey in March, in which the Duke and Duchess of Sussex covered everything from Markle's unfair treatment in the media to her gut-wrenching admission to having suicidal thoughts while pregnant with baby Archie (via The New York Times), to the death of Prince Philip, who had been married to Queen Elizabeth II for a whopping 74 years, it's safe to say the royal family is long-overdue for a little uplifting news to put a pep back in their step.
However, just because the royals have been dealt some serious blows this year, it doesn't mean that Prince William and Kate Middleton, who were reportedly very upset with Harry and Meghan after their Oprah special aired (via People), have been slacking on their royal duties. In fact, Kate Middleton recently honored a promise she made to a little girl who participated in her Hold Still photography project back in August 2020 (via Glamour), and the reasoning behind her outfit choice when she met the little girl is so sweet.
If you or anyone you know is having suicidal thoughts, please call the National Suicide Prevention Lifeline​ at​ 1-800-273-TALK (8255)​.
Kate Middleton wore a bubblegum-pink dress to meet a little girl who has leukemia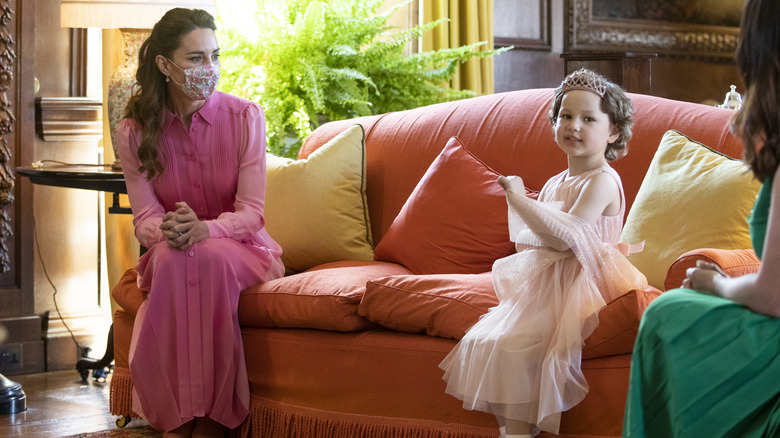 Kate Middleton honored the promise she made to Mila Sneddon, who at the time was only four years old and was undergoing "intensive chemotherapy" in 2020 when she participated in Middleton's Hold Still photography project. A picture of Sneddon kissing her father through a window pane during lockdown, called "Shielding Mila," was featured in the project, and according to the Daily Mail, Middleton called the "very brave" little girl on the phone to talk to her personally after seeing the emotional photo that the girl's mom snapped. After learning Sneddon's favorite color is pink, Middleton told her, "I'll have to make sure I try and find a pink dress. Hopefully when, one day, hopefully, Mia, we'll get to meet and then I'll remember to wear my pink dress for you" (via People).
Fast forward to almost a year later, and the Duchess of Cambridge made good on her promise, donning a "sugar pink bubblegum" color block skirt dress by Me+Em while visiting the young girl, who was wearing an adorable light pink dress, complete with a tiara, of her own. "I want to give you a big, squeezy cuddle," Kate told her pretty-in-pink mini-me, adding, "I love your dress. Can you give it a twirl?"
Fans praised Middleton for her kind gesture, with one Twitter user writing, "Kate is pure class. What a delight for Mila," while another added, "Two princesses in pink meeting each other."
Source: Read Full Article