The Jonas Brothers are back together again and fans just can't get enough of the trio.
The brothers, Kevin, Joe, and Nick Jonas, first rose to fame in the mid-2000s, becoming Disney stars before embarking on a series of highly successful tours. They split for a time after achieving worldwide fame and pursued their own ventures.
The brothers reunited in early 2019 officially, and are better than ever, with a new hit song and big plans for music in the future.
Read on to learn what each of the brothers is up to and how old they are — and how fans can get their hands on a brand-new Jonas Brothers beer.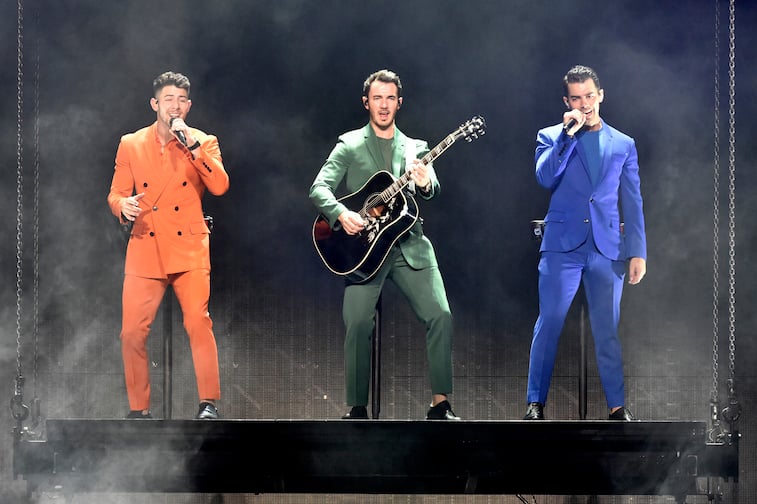 How old is Kevin Jonas?
Born in 1987, Kevin Jonas is the oldest of the Jonas Brothers and a confirmed family man. He enjoyed great success touring with his brothers all throughout the mid-2000s and married his longtime girlfriend, Danielle Deleasa, in 2009.
Both Nick and Joe Jonas served as groomsmen at their wedding. Kevin Jonas is the only member of the Jonas Brothers to have children. He and his wife welcomed their daughter Alena Rose in 2014 and another daughter, named Valentina Angelina, born in 2016.
When the Jonas Brothers split up in 2013, Kevin Jonas faded away from the public eye for a while. He made an appearance on Celebrity Apprentice but other than that, he kept himself busy with business ventures and raising his family. When the brothers reunited in early 2019, fans were surprised and delighted to see Kevin Jonas back with the band.
Now 31 years old, Jonas is able to have the best of both worlds — working with his brothers and spending time with his wife and daughters.
Nick Jonas is much younger than his wife
Youngest brother Nick Jonas was only a teenager when he became famous around the world as a member of the Jonas Brothers. He toured the world with his brothers, enjoying all of the perks of fame.
When the brothers disbanded in 2013, Nick Jonas went on to experience the most successful solo career of any of his brothers, with hit singles like "Jealous" dominating the charts.
Also during the hiatus, Jonas met and fell in love with the actress Priyanka Chopra. They got engaged in July 2018 and had an extravagant wedding ceremony in December of the same year.
The couple's love story made headlines, mainly due to the big age difference between the couple – Nick Jonas is currently 27, being born in 1992, while Chopra is a decade older, and was born in 1982.
Joe Jonas recently married Sophie Turner
Joe Jonas, born in 1989, was very popular during the group's heyday in the mid-2000s. He was linked to a string of other rising young stars, including Taylor Swift and Demi Lovato.
Jonas formed his own group after the dissolution of the Jonas Brothers, called DNCE. The group enjoyed moderate success, and had one major hit, "Cake by the Ocean."
Jonas found the love of his life in actress Sophie Turner, of Game of Thrones fame. The two dated for years before getting married in May 2019, right around the time that the Jonas Brothers officially got back together. At the age of 30, Joe Jonas is clearly enjoying some of the best years of his career.
The Jonas Brothers have their own limited-edition beer
It might seem difficult to believe, but the Jonas Brothers are all adults, at 31, 30, and 27 years of age. They also have a fondness for Coors beer, and recently teamed up with Coors Light to produce a special, limited-edition version with their faces on it.
Fans will be able to buy the brothers' limited-edition beer starting in mid-November when it becomes available in select cities for a short time only – including hotspots in Nashville and Chicago.
Source: Read Full Article