This Is Us viewers are readying themselves for what appears to be a rollercoaster of emotions as the NBC series airs ts final season. Speculation abounds as to how the last chapter of the lives of the Pearson family will play out. Fans continue to debate what will occur during the final 18 episodes of the series. However, one jaw-dropping fan theory explains why Kate Pearson (Chrissy Metz) was not at the cabin during a flash-forward scene where her mother Rebecca (Mandy Moore) lay dying.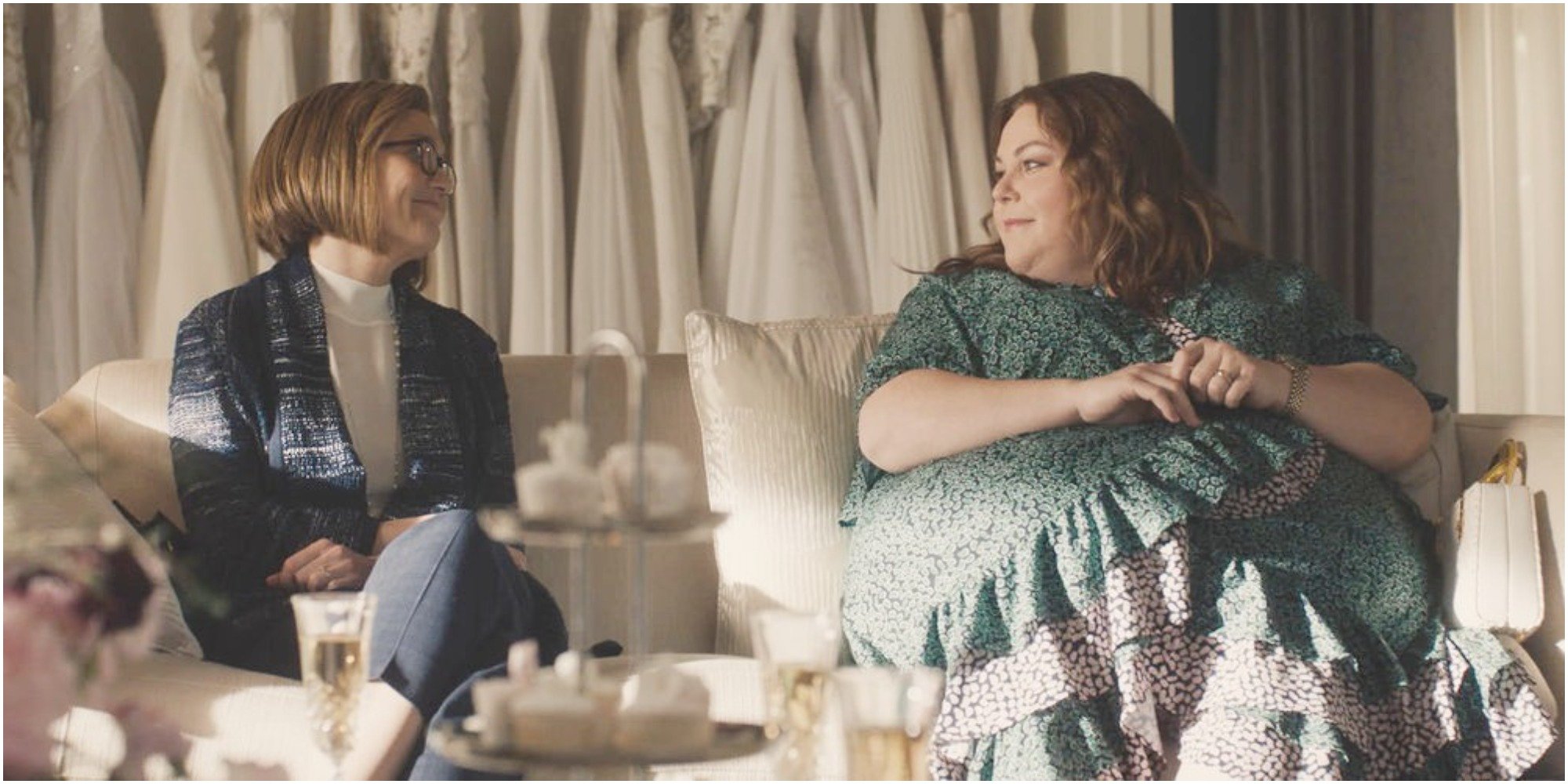 The season 3 finale scene of 'This Is Us' that had fans up in arms
Back in 2019, This Is Us teased what fans could expect moving forward for the Pearson clan. The final minutes of the episode titled "Her" showed a flash-forward scene that depicted an older Rebecca in bed as her family visited at the close of season three.
This critical episode allowed the series to switch gears and show "Her" as an ode to Rebecca after pushing the character to the side and allowing the series to become dedicated to the myth of Jack (Milo Ventimiglia) as the center of the family.
The home near the family cabin Rebecca asked Kevin (Justin Hartley) to build her is standing. The family gathered together to see the Pearson family matriarch. Inside were Beth (Susan Kalechi Watson), Randall (Sterling K. Brown), Tess (Eris Baker), Nicky (Griffin Dunne), and Toby (Chris Sullivan).
Toby said that Jack Jr. was on his way with someone, but there was no mention of Kate, nor was she seen in the final scene of the season.
This scene led fans to come up with thier theories as to where Kate was, including one jaw-dropping idea that could potentially turn the show on its head.
The jaw-dropping fan theory as to why Kate is not at her mother's bedside
In a Reddit thread dedicated to This Is Us, fans debated Kate's whereabouts at that critical point in her mother's life.
One oft-repeated theory and a stunning twist to the story of the Pearson clan is that the character has died.
"I have read many posts that Kate might be dead at the time of the cabin scene," wrote one Reddit user. " And her not being shown does corroborate. However, I was thinking Jack and Hailey would be around the twins' age at this time. Surely, if Kate were dead, they would be would Toby or the family and not Philip. Kate then must surely be alive."
"This could easily be explained by the following. Toby is too depressed to take of the children. The kids are with Madison since she is their godmother," explained a second viewer.
"This is one of my least favorite theories because I want to see Kate blossom and thrive. But I appreciate how the show tries to capture things that are true to life. Kate could be deceased by this time. She could also have changed drastically or have moved. Be widowed. I think this is why Chrissy Metz said to watch the final season with an open heart," wrote a third fan.
When does 'This Is Us' return to NBC?
This Is Us will return to NBC for its sixth and final season beginning Tuesday, Jan. 4 at 9 p.m.
For five seasons, This Is Us premiered in September.
However, to enhance the viewing experience, it was decided the series would begin in January 2022. This move allows for its 18 episodes to run consecutively without a break until the series finale in May 2022.
Source: Read Full Article