While Joseph "Joe Exotic" Maldonado-Passage, the titular star of the 2020 Netflix true-crime hit "Tiger King," will presumably serve his full 22-year sentence for his murder-for-hire plot against rival Carole Baskin, he's certainly far from the only one featured in the docuseries to come under the long arm of the law. According to a September 9 report published by NME, fellow "Tiger King" subject Jeff Lowe, Exotic's former mentor-and-partner-turned-business-adversary, is now purportedly on the lam after failing to show up in a Las Vegas court.
On the whole, the latest development in Jeff's legal issues isn't entirely surprising. Following the March 2020 streaming release of "Tiger King," Jeff — who wasn't exactly cast in a flattering light in the docuseries — has been embroiled in a series of law-oriented missteps. The first occurred in May, when federal agents seized 68 big cats from the exotic animal park Jeff ran with his wife, Lauren Lowe, after both allegedly ignored multiple citations which found them in violation of the Endangered Species Act — all of which were related to animal mistreatment and abuse. (Ironically, the Lowes' zoo was originally owned by Exotic, but relocated to Thackerville, Oklahoma and renamed "Tiger King Park.")
Following the government seizure, the Lowes were arrested outside of Oklahoma City and charged with driving under the influence less than a month later. But strangely enough, Jeff's current situation in Las Vegas is unrelated to either of these events.
Jeff Lowe's legal issues are only the tip of the Tiger King iceberg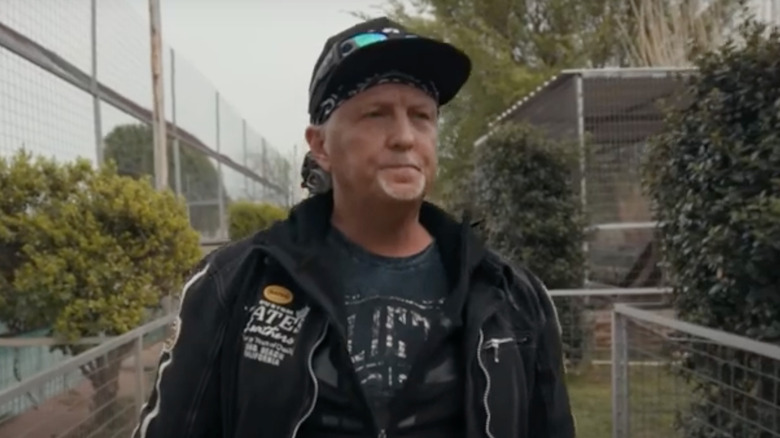 Per NME, Jeff Lowe's latest legal fracas is actually connected to a string of incidents in Las Vegas dating back to 2017 — namely, charges against the big cat enthusiast ranging from "not having a proper license or permit for wild animals" and "doing business without a license." Jeff's subsequent failure to show up at court hearings related to these counts resulted in four outstanding bench warrants.
As NME noted in their coverage, it appears Jeff was able to circumvent these warrants by paying a $20,500 fine and rescheduling his court appearance for September 8 — but in an example of history repeating itself, Jeff is now bereft of thousands and back to where he started, with a fresh new set of four bench warrants once again in his name after pulling a no-show. 
News of Jeff's latest attempt to evade law enforcement comes on the heels of a slew of stories related to the "Tiger King" docuseries. According to NME, Joe Exotic's ex-husband, Dillon Passage, confirmed he had participated in filming for a second season of the Netflix show, though he said he was unaware of an actual release date. Earlier this month, a New York NBC News affiliate also reported that 52-year-old Erik Cowie, a "Tiger King" cast member who worked at Joe Exotic's GW Zoo as a caretaker, was found dead in his Brooklyn apartment.
Source: Read Full Article