Exciting update for those of you completely obsessed with iconic (alleged!!!!) scammer Elizabeth Holmes: she's (allegedly!!!!) married.
Page Six was the first to break this nugget of WTF information, reporting that the disgraced Theranos CEO secretly married her hotel heir fiancé Billy Evans. A friend of Billy's dropped the news on "Bitch Sesh" podcast over the weekend, and an audience member told Page Six that "They have an open mike for people to come up and share any gossip. This girl said she's a friend of Billy's and claimed he and Elizabeth are already married."
here is balto the wolf, elizabeth holmes at burning man, holmes as a leash baby, elizabeth holmes in love by the sea pic.twitter.com/vXJUhfWp8Z
"This girl said she was close with Billy and she'd had 'Friendsgiving' with him and Elizabeth," the audience member said. "She was sharing details like the fact they have a stripper pole in their apartment. The room audibly gasped, and this girl got a standing ovation. And a shirt!"
Wow, honestly a free shirt is fully worth spilling your friends secret wedding over! Of course, this person could have zero idea what she's talking about, and at this point Elizabeth's reps have declined to comment.
FYI, Elizabeth and Billy live together in a luxury San Francisco apartment, and his family are NOT here for the relationship. A source previously told the New York Post that "His family is like, 'What the f*ck are you doing?' It's like he's been brainwashed. [He says] 'The media has it all wrong about her.' He's had a lot of people very close to him sit him down and have a talk. 'This could be the biggest mistake you'll ever make.' 'The negativity around her could blow back on you.' 'You've never encountered anything like this.' 'You need to think hard about what you're doing.' It's kind of like Billy is her shiny new toy. She's super enthusiastic about being with him."
Er, at least they seem happy?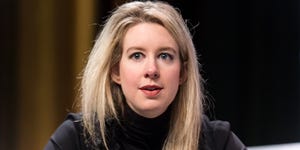 Source: Read Full Article