You can't choose your family. And, as Pippa Middleton knows better than anyone, you certainly can't choose the family that your family chooses. While most people probably don't have a particularly close relationship with their siblings' in-laws, most people's sisters didn't marry the future king of England. Considering the high public interest in the British royal family, Pippa sometimes can't help but get caught up in palace gossip.
Despite living a fairly low-key existence as an event planner at the time, Pippa became an overnight sensation after serving as a bridesmaid at her sister Kate's wedding to Prince William in 2011. This was in no small part due to her famously figure-hugging dress, which she later lamented made her better known for her "backside" than anything else (via LDNFashion). That being said, she seems to bear no ill will towards Kate for inadvertently thrusting her into the limelight, with the two reportedly sharing a close relationship.
While she and Kate enjoy a sisterly bond, how does Pippa Middleton get on with the rest of the royals?
What has Pippa Middleton said about the royal family?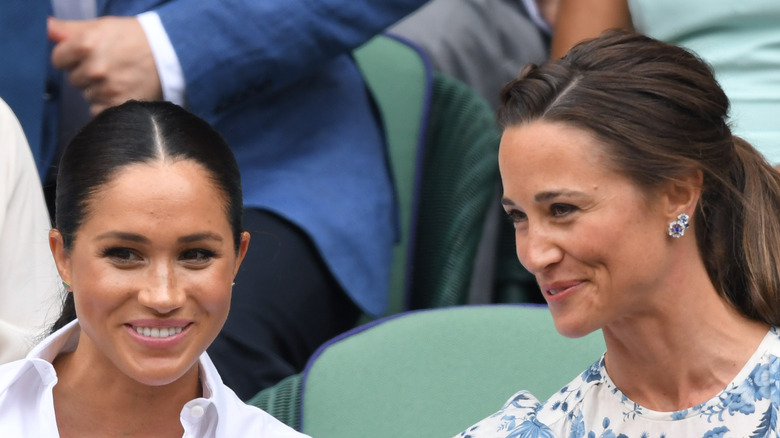 Pippa Middleton became a bonafide celebrity after Prince William and Kate Middleton's wedding, at one point gracing almost as many covers as the royal couple themselves. Speculation about her dating life reached a fever pitch, and she was rumored to be linked to practically every eligible man in Britain — most notably to Prince Harry. But while she served as maid of honor at Kate's wedding, with then-bachelor Harry as best man, the pair never dated, much less made the stroll down the aisle themselves.
Although Pippa and Harry seem to be on good terms, perhaps the same can't be said for her and his wife, Meghan, the Duchess of Sussex. After all, many reports were floating around alleging that Meghan made her older sister cry — although Meghan insisted to Oprah it was actually the other way around. 
Pippa herself hasn't commented publicly on the Kate/Meghan situation, though she reportedly feared that Meghan would "overshadow" her at her 2017 wedding, according to Omid Scobie and Carolyn Durand's book "Finding Freedom," via Elle. (Meghan didn't attend the ceremony, but she did attend the reception.)
How does Pippa Middleton feel about being in the royal spotlight?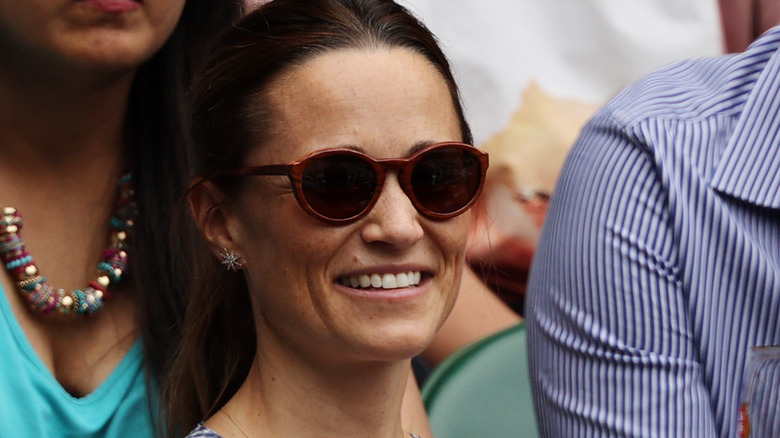 Unlike Meghan Markle's notoriously tabloid-loving family, Pippa Middleton has opted not to comment on her extended royal connections. With palace drama currently at an all-time high, the queen might appreciate this dignified silence, being a long-time fan of reticence herself. In fact, Middleton even gave her daughter the second name Elizabeth — perhaps a nod to a friendly relationship with the monarch?
Regardless of her relationship with the royals, being constantly asked about your sister's family affairs must get tiring. Middleton admitted as much in an appearance on NBC's "Today" in 2014 (via Express), saying, "There is a lot of the pressure I get in London, just in my day-to-day routine. Occasionally I might get followed by paparazzi and that has been a bit difficult." She went on to say she found a lot of the criticism she faced as a reluctant public figure hurtful: "People think they can say something about you online or on a web page when they would never say it to your face." 
So, if you ever run into Middleton, don't say anything about the royals… or her backside!
Source: Read Full Article