You've probably seen the Instagram ads yourself: Daily Harvest, the now-iconic meal delivery service, boasting about their superfood smoothies, nutrient-packed grain bowls, and vegetable-laden flatbreads.
I've seen those ads too, and as a dietitian and a busy parent of two kids, I've been tempted to try out what Daily Harvest is selling.
So, with graciousness of the company (and the blessing of Men's Health), I did—in what would be a two-week test of what Daily Harvest has to offer in terms of good nutrition, easy preparation, and pure deliciousness.
I'll be honest with you: When Daily Harvest first came on the scene around 2014, I wasn't really picking up what they were putting down.
The service basically offered a bunch of ingredients that arrived frozen in a cup. And then you buzzed those ingredients in a blender with your favorite smoothie liquid and … there you go.
Maybe it's because I'm a self-proclaimed smoothie expert (I've only been enjoying almost daily for at least 25 years), but I didn't feel like Daily Harvest's semi-premade shakes were offering me much.
But then the company started rolling out meals, snacks, lattes, and even some pretty amazing-looking desserts. These offerings looked goooooood—and many of them even looked really good for you.
The average American eats about two servings of total produce per day. (That's not great.) Daily Harvest's offerings, all of which are vegan and gluten-free, make eating more produce easy.
How easy? Here's how easy.
What Daily Harvest Offers for Breakfast
For the last two weeks, my mornings started with Daily Harvest's oat or chia bowls or, begrudgingly, their smoothies—because (and I don't know if I've mentioned this already) I do smoothies really well on my own.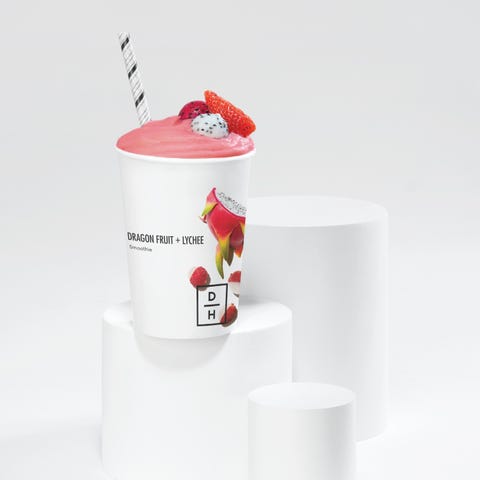 That said, I don't usually add lychee, black sesame, and dragon fruit to my smoothies, so it was fun to explore new worlds of flavor.
One drawback to Daily Harvest's smoothies (they run about $8), I found, was that they don't typically offer the 30 grams of protein I'm looking for in terms of muscle building and feeling full—so I'd add a scoop of protein power to hit that amount.
And the oat and chia bowls? They are damn good—and I don't even like chia.
The oat bowls ($6 each) have impressive flavors such as Blueberry + Lemon, Mulberry & Dragon Fruit, Pumpkin & Chai. The chia bowls (also $6) have Blackberry + Majik (a type of microalgae spirulina) and Vanilla Bean + Apple.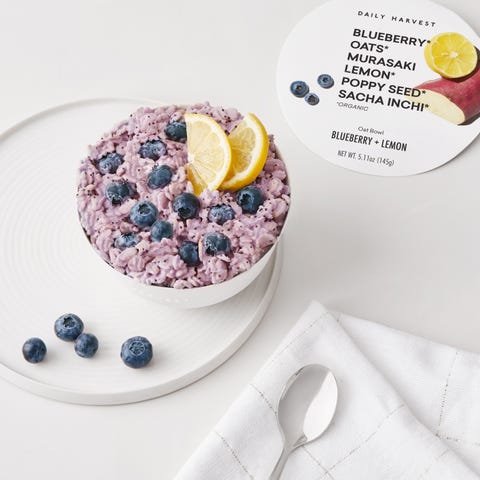 Sometimes—particularly after a morning weight workout—I did feel like I need two bowls to fill up, as they range in calories from 230 to 380 calories, but was always satisfied with the flavors and high-quality ingredients.
What Daily Harvest Offers for Lunch
The first Harvest Bowl (they cost around $9) I tried from Daily Harvest was Butternut Squash & Chimichurri. If it sounds like an odd combination, I get you. Chimichurri is an herb-based sauce that's foundational to Argentinian cuisine and most typically served over steak.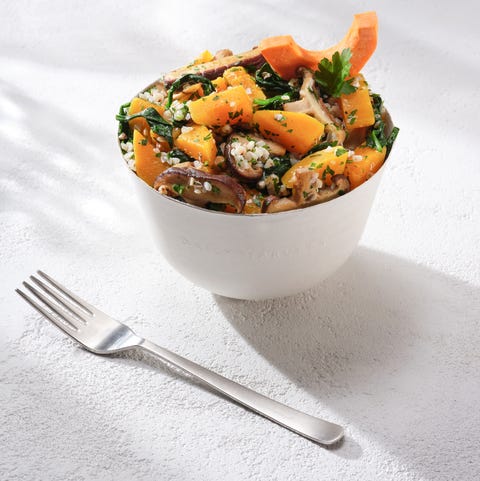 But Daily Harvest uses the fresh-tasting sauce to match and elevate the savory-sweet flavors of the butternut squash, shiitake and cremini mushrooms, and earthy buckwheat, for a warm bowl that's hearty but not heavy.
Like Daily Harvest's other offerings, their lunch bowls are not tremendously high in protein or calories (the range from 160 to 470 calories), so sometimes I would have to add some leftover fish, steak, or chicken to this or any bowl to meet my nutritional needs.
The Brussels sprouts and Tahini was another favorite that was loaded with flavor and nutrition. I mean, when your nine-year-old insists this is her new favorite lunch, you know it's a winner.
What Daily Harvest Offers for Dinner
Although I enjoyed some of Daily Harvest's soups for lunch, my family often started our dinners with them.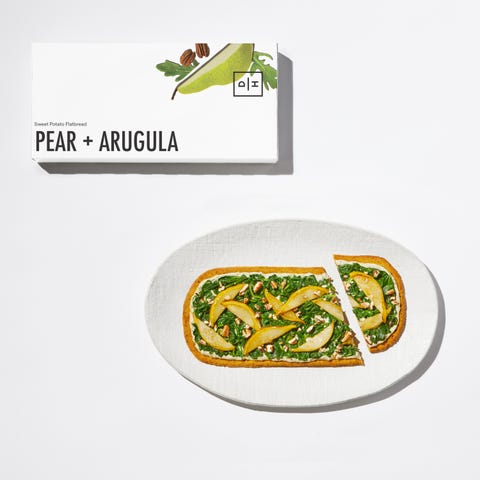 (As a general rule of thumb, based on data out of Dr. Barbara Rolls' lab at Penn State, among others, starting a meal with a broth-based soup is a wise idea.)
Good soups fills you up and offers high-volume, low-calorie nutrition. Although good soups are either time consuming to make or most canned options, well, suck.
Daily Harvest's soups ($8) are easy and awesome. Lentil + Cremini, Mushroom + Miso, and Turmeric + Lemongrass Broth are just a few of the favorites in the Mohr House.
And the ease of throwing them in the microwave while the flatbreads baked was a perfect way to start our meals.
Yes, flatbreads.
I'm a big fan of pizza, so I was skeptical about Daily Harvest's flatbreads (about $9 each).
But they won me over. No, it wasn't a woodfire-kissed, 00 flour crust, but I wasn't expecting that.
Though I thought each needed a little salt, the flavor combinations were still strong. Pear + Arugula, Kale + Sweet Potato, and Tomato + Cremini were all family favorites.
What Daily Harvest Offers for Snacks and Dessert
For snacks, each has about 100 calories and are full of flavor. I liked the Cacao Nib + Vanilla Bites ($8 for seven bites), where the first ingredient is chickpea puree and also includes maca, pumpkin, flax, and several more quality ingredients.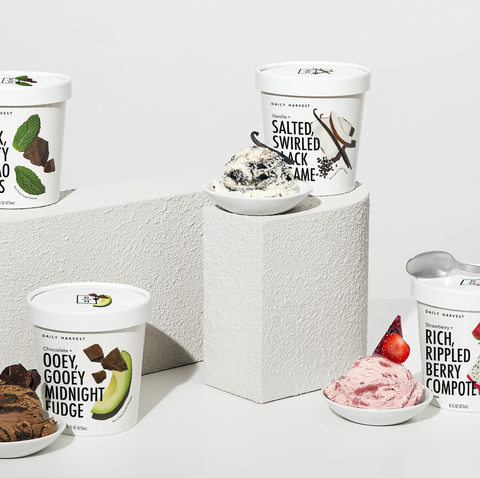 I'm not going to say their Scoops ($9 a pint) are an even swap for Haagen Daaz, but the coconut-cream-based ice cream is certainly a better choice from a good-for-you standpoint so they're something to consider. They range in calories, but seem to average about 250 per 2/3 cup. (Honestly, though, the Scoops were our least favorite of Daily Harvest's stuff.)
The Bottom Line
As a dietitian, as an active guy, and as a dad, I recommend Daily Harvest. The service frees up time in the kitchen, delivers easy and creative ways to enjoy more produce, and the nutrition is solid (though you may need to add some protein to certain meals).
Now where are my cocoa nib bites?
Note: Daily Harvest supplied Chris Mohr with product for the review of this piece.
Source: Read Full Article