Once you're stuffed with enough chocolate, Kraft is making sure you can continue the festive eating with its new Candy Mac & Cheese. Forget everything you know about your favorite macaroni and cheese, because soon enough, it'll taste like sweets for Valentine's Day.
The Candy Kraft Mac & Cheese consists of the same noodles and cheesy flavor that you know and love, but with one major different. The box also includes a candy flavor packet that not only adds a hint of sweet candy flavor to your meal, but it also turns the contents pink. Talk about a festive dish for Feb. 14.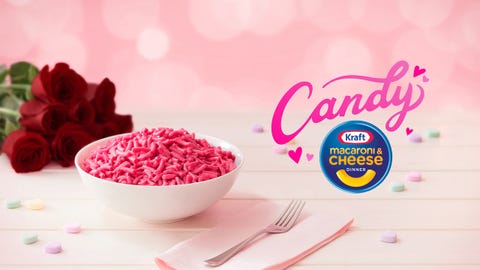 To get your hands on the Candy Kraft Mac & Cheese, you're going to need luck on your side. Beginning on Jan. 27 at 9 a.m. EST, you can visit Kraft's website and follow the directions for a chance to win the candy-filled macaroni and cheese. The contest ends on Feb. 8 at 1 p.m. EST, and the lucky recipients will receive a kit that includes on box of Kraft Macaroni and Cheese and one candy packet.
It's a little early to be planning what special meal we're going to make on Valentine's Day — or so we thought — but now there's no doubt that (fingers crossed) we get the chance to cook candy-flavored macaroni and cheese. That's a sentence we didn't expect to write today.
Source: Read Full Article