The '90s brought us many beautiful, denim-filled trends, as well as the best snacks out there. Kellogg's Pop-Tarts Crunch cereal first came out in 1994, and were brought back in early 2019. The Frosted Strawberry and Frosted Brown Sugar Cinnamon flavors were killer debut choices, but we're super psyched for the newest addition: Frosted Cookies & Crème!
New Frosted Cookies & Creme Pop-Tarts cereal is out now! Gimassive thanks to @m_huddy for the pic. He found the cereal at Woodman's.
A post shared by CandyHunting (@candyhunting) on
In case you've been too busy warming up your Frosted Confetti Cupcake Pop-Tarts to notice, there is a Frosted Cookies and Crème flavor of the classic pastry. The chocolatey cookie-flavored crust is topped with a sweet frosting and chocolate-flavored sprinkles. The middle consists of a vanilla crème-flavored filling, so it's kind of reminiscent of an Oreo, no? We expect a similar taste in the cereal version, and thanks to Instagram account @candyhunting, we know it looks delicious.
So far, this is the only thing we know about the newest Pop-Tarts Cereal. It was spotted at Woodman's, a Wisconsin-based supermarket, so maybe it won't be a Walmart-exclusive flavor like the other two.
So get your spoon ready!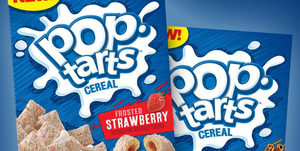 Source: Read Full Article