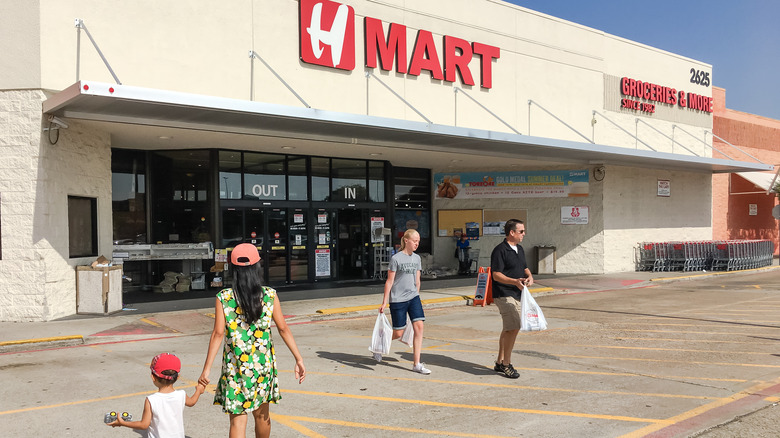 Supermarket shopping has evolved in the last few decades. Once upon a time, grocery stores were just a spot to pick up your bread, milk, and ground beef. Now, we have destination stores such as Trader Joe's and Whole Foods for gourmet goods, Aldi for rock-bottom bargains, and Wegmans for just about anything you could ask for. There are even local gems, such as Stew Leonard's in Connecticut, which has animatronic animals in the aisles to amuse the kids. 
Now add to that list a specialty market that's well on its way to becoming a national phenomenon. H Mart has more than 100 stores in 14 states, plus international locations like Canada and London, with a superstore scheduled to open in Florida later this year, via The New York Times. H Mart's specialty is Korean foods — everything from fish sauce to chilies, savory gochujang paste, dried noodles, pork belly, and sliced bulgogi ribeye, and live seafood in tanks. Naturally, they also carry kimchi, the spicy fermented cabbage that's a must on every Korean table. And while they do stock basic vegetables, milk, and other staples for the convenience of non-Asian customers, The Times notes that shoppers who aren't familiar with Korean products often find themselves adding honey butter chips and other popular snacks to their carts. 
To Korean shoppers, H Mart is more than just groceries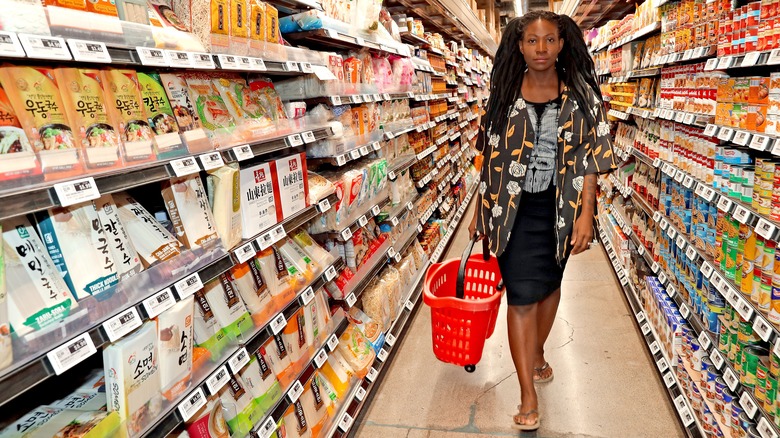 Per The New York Times, H Mart was founded in 1982 by Il Yeon Kwon, who emigrated from South Korea to Queens, New York. The store's original name was Han Ah Reum, which roughly translates to "an armful of groceries." Now he's the chairman of the $1.5 billion chain, and his ex-wife and two of his children serve as co-presidents. Kwon's mission was to provide a convenient, attractive, and well-stocked food oasis to an underserved population. Often, Asian shoppers looking for familiar ingredients have to travel miles out of their way to find a specialty grocery, and even then, the store may not have what they need.
More than just food, however, H Mart represents a sense of home and belonging. At a time when anti-Asian hate crimes are on the rise, Asian shoppers flock to a place that connects them to their culture. The foods here evoke childhood memories of dinners and holidays, and make it possible to keep the memories going. Musician Michelle Zauner wrote a memoir called "Crying in H Mart" following her Korean-born mother's death. Visiting the market is an emotional experience for her and other shoppers, as detailed in this excerpt in The New Yorker: "I know we are all here for the same reason. We're all searching for a piece of home, or a piece of ourselves," she writes. "H Mart is where you can find your people under one odorous roof, where you can have faith that you'll find something you can't find anywhere else."
Source: Read Full Article