Every state budget is poised to be pushed into deficit for the next two years as the coronavirus pandemic forces them to spend more on vital services while key revenue streams dry up due to the national economic slowdown.
Just as the federal government's expected surplus has disappeared due to the coronavirus outbreak, the states will not only post large deficits but face a sharp lift in debt levels.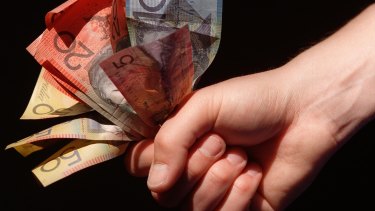 Coronavirus measures alone have wiped out the planned surpluses of every state bar Western Australia. But they are also being hit by tumbling revenues.Credit:Jessica Shapiro
Every state, in their recent mid-year budget updates, forecast they would produce an operating surplus this financial year. Combined, it was almost $4.2 billion although Western Australia accounts more than half, with a predicted surplus of $2.6 billion.
NSW said it would have an operating surplus of $702 million while Victoria was promising $600 million. Both states upgraded their expectations on revenue from the property sector because of the turnaround in the Sydney and Melbourne housing markets through the second half of 2019.
But that was before the summer's bushfires and now the coronavirus outbreak, with every state putting together multibillion-dollar stimulus packages for their own economies.
NSW has announced $2.3 billion of assistance, with much of the cost to hit this year's budget while Victoria is sinking at least $1.7 billion into measures including payroll relief for businesses and hardship grants to industries.
The packages alone have wiped out the planned surpluses of every state bar WA, but the west is also being hit by tumbling revenues.
The global financial crisis put a large hole in GST revenues to the states and territories. In 2008-09, the federal government forecast it would collect $149.5 billion in GST to be shared with the states and territories over the following three years. Instead, it collected $139.3 billion, a shortfall of $10.2 billion, or 6.8 per cent.
Stamp duties, the largest own-source revenue of the states, is also expected to contract sharply, with CoreLogic this week tipping overall property activity to shrink by 50 per cent.
One treasurer told The Sydney Morning Herald and The Age "no one is going to match" their forecasts for stamp duty collections this year.
Moody's vice-president senior credit officer, John Manning, said all states were facing severe budget pressures because of the coronavirus pandemic and the responses to control it.
Not only would operating surpluses be hit but the debt levels of each state, already rising because of the infrastructure projects under way across the country, would climb.
"We'll be seeing a rise in debt burdens," he said. "They're going to see a hit to state-own revenues but also the GST."
Mr Manning said with low wages growth and high under-employment going into the pandemic, the states were going to struggle to benefit from a lift in household spending that would deliver extra GST revenues.
With huge parts of the economy shutting down, the GST pool was likely to contract, which would then leave a shortfall in cash.
All states, and the federal government, have delayed their budgets until the second half of the year as they try to determine the financial and economic fallout from the coronavirus outbreak.
Sign up to our Coronavirus Update newsletter
Get our Coronavirus Update newsletter for the day's crucial developments at a glance, the numbers you need to know and what our readers are saying. Sign up to The Sydney Morning Herald's newsletter here and The Age's here.
Source: Read Full Article