On first glance, it looks like a chart tracking phases of the moon. The paper is stamped with faint circles, ranging from dark brown to barely visible white. What initially seems like simple beauty however quickly gives way to a low thrum of horror.
We do not all breathe the same air (2022) by Tomás Saraceno is one of the works on display at QAGOMA's new exhibition, Air.
This is We do not all breathe the same air (2022) by Argentinian artist Tomás Saraceno. It's easy to miss – displayed on the wall about halfway through QAGOMA's new exhibition, Air, it's overshadowed by another of Saraceno's works made up of large orbs hung all over the gallery.
We do not all breathe the same air looks at the air quality in three different areas of Melbourne – the CBD, Box Hill and Geelong – and is spread across multiple picture frames, each made up of seven strips of 24 circles. Measured earlier this year, each circle shows the particulate matter present at a particular hour – the darker it is, the worse the pollution. In a collision of science and art, the project nails in no uncertain terms something we all know intuitively.
"Air can seem so abstract and immaterial as a subject. But then when you look at it, it impacts our lives and the shape of our world in so many ways," says Geraldine Kirrihi Barlow, curator of international art at QAGOMA.
It's a broad subject for an exhibition, allowing the gallery to bring together the work of more than 30 artists, both local and international.
"Air" is explored from almost every angle, from the expected to the highly unusual. It becomes a pathway into the climate crisis, into anxiety, into past atrocities, into nostalgia.
Hot Spot III (2009) by Mona Hatoum.Credit:QAGOMA
Rosslynd Piggot's Collection of air 2.12.1992-28.2.1993 tracks a trip through Europe through a diary of labelled bottles of air sealed with wax. Two works use scent, another features a living wall of plants (which is tended to by a specialist gardener once a week).
Mona Hatoum's Hot Spot (2006) gets a room of its own, the red light emanating off the artist's rendering of the world spilling out into surrounding displays and underscoring how air – and crises – are difficult to contain.
One particular highlight is a room filled with works by Patrick Pound. Here, the Melbourne-based artist has used the concept of air to connect works and objects that on first glance seem unrelated to one another. Along the wall is a line of paintings by different artists from different eras. When you take a step back, however, they've been carefully ordered and arranged so that it looks like a single gust of wind is blowing across from left to right.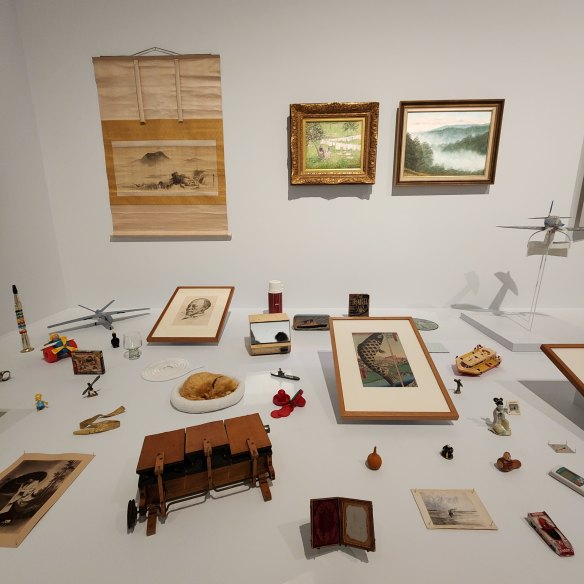 Part of The air lock (2022) by Patrick Pound on display at QAGOMA.
Directly opposite, a strange collection of objects are displayed on a raised platform. There's a statuette and books, a fluffy toy dog sleeping in a little bed. There's an inflated rubber dinghy in front of a moon boot. The set-up wouldn't look out of place at a flea market, but then you look up and – wait, is that a Picasso painting?
The air lock (2022) is a game, where the goal is to figure out how each item ties back to the theme of air. To create this work, Pound drew from his own impressive collection of objects and also dug into the gallery's own archives. "Everything gets treated equally, which is not to say they're of the same value – but they're of the same value in my context which is how they hold the idea of air," Pound explains.
Visiting Air is like walking into a large room overflowing with different, spirited, conversations. It serves as a fascinating showcase of individual creatives while also offering up some unexpected connections.
"I hope that [the exhibition] has relevance to urgent issues we face, but I also feel it's important to allow a space for beauty and a sense of wonder," says Barlow. "And I think artists do this in such an incredible way."
The author travelled to QAGOMA to view the Air exhibition. Flights and accommodation were courtesy of QAGOMA.
Air is on at QAGOMA in Brisbane until April 23, 2023.
A cultural guide to going out and loving your city. Sign up to our Culture Fix newsletter here.
Most Viewed in Culture
From our partners
Source: Read Full Article