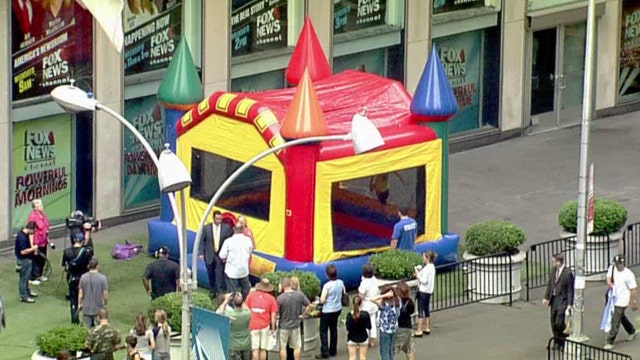 How to keep your children safe in a bounce house
Bounce houses account for 11,000 injuries yearly
A tragedy has occurred involving the deaths of multiple children after a bouncy castle was lifted 33 feet into the air by wind in Australia, according to Tasmania Police.
At least five children have died and four others are in critical condition as of Thursday [Australia time], the Associated Press reported.
"On a day where these children were meant to be celebrating their last day at primary school, instead we are all mourning their loss," Commissioner Darren Hine said in a statement on Tasmania Police's website.
Hine said among the children who lost their lives were "two boys and two girls in year 6, which would make them 10 or 11 years old," according to the AP. Hine said the fifth child died in the hospital.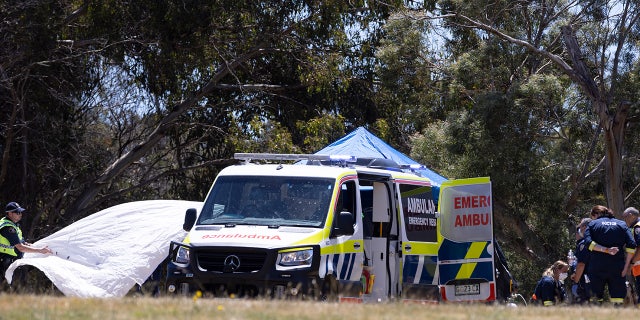 Credit: AAP Image Emergency services personnel inspect the scene at Hillcrest Primary School. Five children have died and four are being treated in hospital, with some critically injured, after a bouncy castle accident in the Australian state of Tasmania, police said on Thursday.
The incident took place at Hillcrest Primary School in Devonport, Tasmania, Australia. Fox News has requested comment from Hillcrest Primary School as well as Tasmania Police.
"Our hearts are breaking for those affected by the Hillcrest Primary School incident today. Taken too soon," Tasmania Police wrote on Facebook Wednesday, offering phone numbers to 24-hour mental health counseling hotlines.
Hillcrest Primary School announced on Facebook it was closing the school for the remainder of the day. "We ask that parents come to collect their children as a matter of urgency," Hillcrest wrote in its post.
Tasmania Police said an investigation is underway with involvement from WorkSafe Tasmania – a government safety organization in Tasmania.
The Consumer Product Safety Commission (CPSC) said inflatable bounce houses are "not without risk" with 12 deaths being reported to the U.S. government agency from 2003-2013. The CPSC estimated there were more than 18,000 injuries associated with bounce houses which were treated in hospital emergency departments.
Fox News reached out to the CPSC for additional comment on bounce house safety.
The CPSC said if it's windy outside, people should not use a bounce house. When using a bounce house, the maximum wind speed should be no more than 15 to 25 mph, the CPSC writes on its website. Search engine results of wind speed in Devonport Thursday was 9 to 14 mph during daytime hours. It is not yet known if the bounce house in this incident was staked to the ground.
5 children are dead after wind lifted a bouncy house 33 feet into the air in Australia. https://t.co/DWB8Ew6HBj
More tips fo families from the CPSC on how to stay safe while using bounce houses:
-Follow manufacturer's instructions for set up.
-Make sure the bounce house is properly staked and anchored on a flat, even surface.
-Never place bounce houses near tree branches, power lines or fences.
-Only children about the same age and size should be jumping at one time. Always observe the maximum occupancy limit.
-Teach children to play safely – not tumble, wrestle or do flips.
-Keep children away from any gas generators or air pumps, especially if standing water is nearby.
-Children should always be supervised by an adult, and or staff from the company which is operating the bounce house.
Tasmania Police wrote on its site that support and counseling are available to all, including emergency service workers who responded to the call. A GoFundMe page titled Support for Families – Hillcrest Primary School has raised more than $225,000 by an organizer named Zoe Smith, who claims to be a Devonport community member.
"All funds will go to the families of the children who were tragically killed and injured too not only support them but provide them with much needed gifts in this time of such sadness," Smith wrote.
Source: Read Full Article