From its 1986 birth as the Spoleto Festival, Melbourne International Arts Festival has come a long way in 33 years. And it's about to get another big makeover from next year, when it merges with White Night and moves to winter under a new name, in a move the Victorian government says will boost tourism in the off-peak.
That's all by the by for outgoing artistic director Jonathan Holloway, who made the decision to wind up his tenure at the state's flagship arts festival more than a year ago. His fourth and final program opens on Wednesday night with the annual Tanderrum, a free Indigenous celebration at Federation Square.
"I don't think it's quite sunk in yet," he says of moving on. "It's been brilliant."
Jonathan Holloway at the Famous Spiegeltent, which will host free music each night of the festival.Credit:Luis Enrique Ascui
After the curtain falls on October 20, Holloway, originally from Sheffield, UK, will be freelancing as a "gun for hire", mixing public speaking engagements with writing and consulting on various international arts projects, including in China and at New York's Brooklyn Academy of Music.
He'll be based on the sunny Spanish island of Mallorca – "Not in a Christpher Skase kind of way," he jokes – with his two daughters and wife Jenny Vila. They moved to Australia with Holloway in 2011 for his appointment as Perth Festival artistic director, but returned to Mallorca last year. Vila, an artistic producer and Mallorcan native, is launching the Mallorca International Arts Festival in 2020.
"We came here intending to be here for four years as an adventure, then fell in love with the place," Holloway says of their time in Australia.
The self-described "European interloper" has certainly made his mark, earning three Helpmann Awards for best special event at both Perth and Melbourne festivals.
Perth saw a massive boost in attendances, culminating in 2015 with The Giants, which drew the biggest-ever crowd at an arts event in Australia. In Melbourne, Holloway broke box-office records and brought the epic four-night tour-de-force of Taylor Mac's A 24-Decade History of Popular Music, an event that won't be forgotten by those lucky enough to have seen it in 2017.
This year there are "quite a few shows that are about voices that need to be heard and believed", says Holloway, such as Cora Bissett's "riot" of a show about the live music scene, What Girls Are Made Of; comedy A Brimful of Asha, about a gay British-Indian whose mother is determined to find him a wife; andThe End of Eddy, about growing up gay in rural France.
The Arts Centre's Spiegeltent, which hosts Bissett as well as illusionist Scott Silven, will transform into Mirror on Melbourne each night from 9.30pm to midnight (7.30pm Sundays), with free bands and DJs.
Holloway says it's been a privilege to be able to bring art and discussion to Australians over the past eight years in Melbourne and Perth.
"Melbourne can be highly critical – and rightly so," he says. "Expectations are high and I don't think I've been given a free pass by any means, but in general I have felt very welcomed.
"Festivals reflect society and culture and the times we live in, and the world is an utterly different place today to what it was eight years ago – culturally, politically, with personal politics, global politics, identity politics.
"To be able to ride that and watch that and experience it and, at certain moments, reflect it back, has been unbelievable."
If there have been any qualms ahead of next year's inaugural blockbuster format they are around how organisers will manage the mass appeal of White Night with the theatre-based programming traditionally expected of a state arts festival.
Holloway reckons it's in good hands. "The team that's running it is superb," he says, "and I'm confident myself and the team will have left it far better off than when we started."
Melbourne Festival opens on October 2 with Tanderrum, 6.30pm, Federation Square. The festival runs until October 20. festival.melbourne
Melbourne Festival's artistic directors through the years
1986–1988 Gian Carlo Menotti (Spoleto Festival Melbourne)
1989–1991 John Truscott (becomes Melbourne International Festival of the Arts, and other variations thereof, from 1990)
1992–1993 Richard Wherrett
1994–1996 Leo Schofield
1997 Clifford Hocking
1998–1999 Sue Nattrass
2000–2001 Jonathan Mills
2002–2004 Robyn Archer
2005–2008 Kristy Edmunds
2009–2012 Brett Sheehy
2013–2015 Josephine Ridge
2016–2019 Jonathan Holloway
2020 Hannah Fox and Gideon Obarzanek
Melbourne Festival highlights through the years
Spoleto Festival, 1986-1989
Founded by Gian Carlo Menotti, the Spoleto Festival Melbourne opened in 1986 with Ken Russell's Madame Butterfly. The event changed its name to Melbourne International Festival of the Arts in 1990.
The fourth and final Melbourne Spoleto Festival drew large crowds at St Kilda Road on opening night.Credit:Fairfax Photographic
John Truscott's arches (1990)
Then artistic director John Truscott designed two 18-metre-tall arches to frame St Kilda Road outside the Arts Centre for the 1990 and 1991 festivals. They proved a logistical nightmare, with trams and power lines being shut down for their erection and removal.
Truscott's arches.
Urban Dream Capsule (1996)
For the duration of the 1996 festival, five bald men lived 24/7 inside the Myer windows on Bourke Street.
Urban Dream Capsule: Performers inside the Myer windows on Bourke Street communicate with people outside.Credit:Penny Stephens
Singin' in the Rain/Dancing in the Streets (2003)
Artistic director Robyn Archer started this free public event in 2003, which saw thousands flock to Federation Square for free nightly dance classes including Gene Kelly's Singin' in the Rain on opening night.
Thousands learn to dance at Federation Square.Credit:Andrew De La Rue
Saburo Teshigawara: Green (2005)
No ordinary dance performance, this troupe brought rabbits, cows, ducks and goats onto the State Theatre stage. It was all RSPCA approved.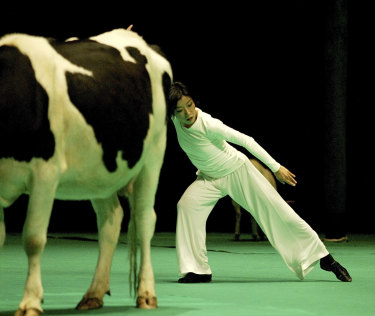 Saburo Teshigawara's Green.Credit:John Donegan
Merce Cunningham: The Melbourne Residency (2007)
Two years before his death, the festival hosted a residency for influential American choreographer Merce Cunningham. The final performance was held at Federation Square.
The residency culminated in a public performance at Federation Square.Credit:Simon Schluter
Taylor Mac: A 24-Decade History of Popular Music (2017)
Running for 24 hours over four nights, Taylor Mac's epic, queer and music-filled interrogation of American history was a once-in-a-lifetime artistic experience.
Unforgettable: Taylor Mac.Credit:Sarah Walker
Compagnie Carabosse: Fire Gardens (2018)
All 30,000 tickets to this unique event, with thousands of individual flames lighting up the Royal Botanic Gardens, sold out weeks ahead of last year's festival.
Staff at Compagnie Carabosse light floating fire pots from a paddle boat.Credit:Eddie Jim
Do you have a favourite Melbourne International Arts Festival event? Let us know in the comments below.
Source: Read Full Article