Meghan Markle had Princess Diana vibes at the 2022 Invictus Games, both in her behavior and clothing choices. One body language expert unpacked how Meghan behaved like Diana at the event.
Meghan Markle 'showed similar behavior' to Princess Diana
Body language expert Darren Stanton analyzed Meghan's appearance at the Invictus Games, telling Marie Claire how her behavior was reminiscent of Diana.
"While interacting with the crowds in the Netherlands, Meghan demonstrated similar behavior to Princess Diana," Stanton said. "She was quite happy to interact with members of the public and there's a great shot of her hugging a young girl in the crowd."
He continued, "As she stepped out with Harry, Meghan was seen wearing a true expression of happiness — again holding hands with Harry, with the pair appearing incredibly tactile over the weekend."
Stanton added, "Their appearance at the Invictus Games suggests Harry and Meghan are clearly a very strong unit together and they're not afraid to show the world how they are very much still in love."
Meghan wore a top that resembled one of Diana's fashion choices
Meghan also sported a top at the Invictus Games opening ceremony that looked similar to the dress Diana wore during her last portrait sitting five months before her death.
Photographer Mario Testino took photos of Diana which were featured in the July 1997 issue of Vanity Fair. The caption for the photo explained the dress. "Ordered for a 1993 state banquet honoring the King and Queen of Malaysia, Princess Diana's classic formal dinner dress of white silk crepe was designed by Catherine Walker," the caption noted.
"It features a draped panel which forms a tied cross in front and falls over the cap sleeves, ending below the hips at the back," it explained.
Meghan's shirt paid tribute to Diana with obvious similarities — the white off-the-shoulder top featured a ruched twist criss-cross bodice.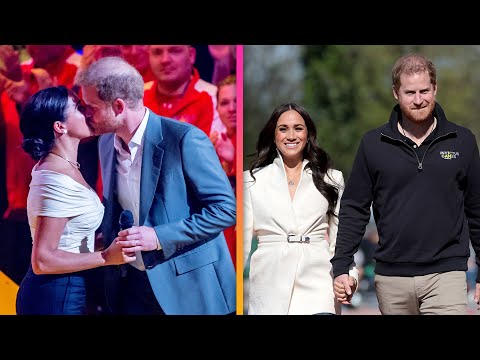 Meghan Markle introduced Prince Harry at the opening ceremony
Meghan wore the bodysuit during her appearance at the Invictus Games opening ceremony, where she introduced Prince Harry.
"It is my distinguished honor to introduce someone that I think you'll all be very excited to hear from," the Duchess of Sussex said. "I could not love and respect him more and I know that all of you feel the same,".
"He's the founder of the Invictus Games, and the father to our two little ones, Archie and Lili," she continued. "Please welcome my incredible husband, Prince Harry, the Duke of Sussex."
Body language expert Judi James told the Mirror that Harry appeared to be very emotional in the moment. "As Meghan and Harry do the hand-over of the mic they also perform a kiss that would have been a given in the political world but which is groundbreaking in royal terms," she explained. "It is affectionate but swift, with both smiling proudly as they perform it."
She added, "The problem for Harry is that it appears to knock him sideways emotionally. Watching his wife exit from the stage he stands in overwhelmed-looking silence for 30 seconds as the crowd carries on their applause."
Source: Read Full Article