The recovery of the NSW and Victorian economies will depend on households going out for dinner, taking trains to work and even getting the car washed, with new figures revealing the pandemic punched a $50 billion hole in consumer spending.
A comparison of spending through 2019 against last year's COVID-infected 2020 shows how households – which make up more than 60 per cent of national economic activity – have dramatically altered their financial priorities.
In NSW, household consumption reached $364 billion across 2019 but was $23.6 billion or 6.5 per cent lower in 2020. It was even more pronounced in Victoria which endured a $27.8 billion or 9.7 per cent full year decline. Across every other state and territory, the combined decline is another $11.3 billion.
Border closures, work-from-home orders and mandated shutdowns all upended how households spent.
The biggest falls in the two largest states were in transport services which covers everything from taxis to flights to the daily train trip into the CBD. Spending by NSW households on transport services in 2020 was 64 per cent or $8.4 billion lower than 2019, while in Victoria it fell 72.1 per cent or by $6.5 billion.
The surge in working from home and the closure of borders hit other services. Services associated with personal vehicles, such as washing and general servicing, also plummeted as cars stayed in their garages rather than headed into the city for the working week.
Victorian household spending on car services dropped $3.7 billion or 25 per cent between 2019 and 2020, while in NSW it fell by $2.4 billion or almost 14 per cent.
While the reopening of both states has resulted in people heading back to cafes and restaurants, the restrictions of 2020 dealt a huge financial blow to that industry.
NSW household spending on eating out through 2020 was $10.5 billion down on 2019 while in Victoria it was $7.6 billion lower.
The data also reveals how border closures have hit consumer spending in NSW and Victoria, while effectively boosting it in other parts of the country.
The national accounts track net interstate expenditure, which nets out the spending of tourists outside their home state or territory.
Households slashed expenditure on eating out through 2020. A full recovery from the recession will require people to head back out to the local cafe.Credit:Edwina Pickles
Though not traditionally a large driver of growth, NSW and Victoria both usually run large positive net returns. But in 2020, this dropped by 73 per cent in NSW to just $516 million and by 35 per cent in Victoria to $856 million.
By contrast, in Queensland its net interstate household expenditure improved by 70 per cent from minus $3 billion to minus $900 million as locals stayed within their borders.
EY chief economist Jo Masters said household spending was going to remain a key support for the nation's economic recovery.
She said EY's own future consumer index suggests a quarter of respondents expect to spend more on fresh food over the long term while 14 per cent believe they will spend more on frozen, canned and dried foods.
The index shows while 74 per cent of respondents are comfortable about going to work, only 44 per cent are comfortable taking public transport.
"While comfort levels are likely to improve, we are also likely to see people working more frequently from home than pre-pandemic, which does of course mean no commute," Ms Masters said.
"While households are keen to get out and about, it seems very possible that we will see some permanent increase in 'cooking and cocktails' from home, although it's difficult to gauge the extent of that."
One spending change may deliver long term health savings. Consumption of tobacco collapsed by 12.4 per cent among NSW households and by 14.3 per cent among those in Victoria.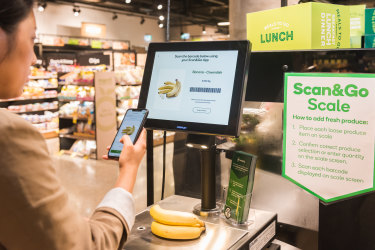 Apps like Woolworths' Scan&Go let shoppers add their goods to an online shopping basket and pay as they walk around the store.Credit:Woolworths
The lift in work-from-home resulted in a large jump in spending on household furnishings. NSW households alone spent an extra $1.5 billion on tables, chairs and desks in 2020 compared to 2019.
That working from home also translated into bigger utility bills. Consumption of electricity, gas and water increased by almost 10 per cent or $1 billion among Victorian households.
How we shopped has changed. Online food retail through 2020 reach $8.7 billion, a 58 per cent jump on 2019 as we asked our supermarkets to find, pack and deliver weekly groceries.
ANZ senior economist Adelaide Timbrell said many households had stockpiled on food and toilet paper early in the pandemic. As people used their supplies they would be able to shift their spending into other areas.
She said while the Sydney and Melbourne CBDs had been hit by a reduction in spending, the suburbs were doing much better.
"People are now more likely to go shopping or out for dinner in their local suburb rather than come into the city," she said.
"As the borders reopen and people become more confident you can see how travel services will recover but there is likely to be some long-lasting change in household consumption."
Catch all the day's headlines
At the end of each day, we'll send you the most important breaking news headlines, evening entertainment ideas and a long read to enjoy.  Sign up to The Sydney Morning Herald's newsletter here, The Age's here, Brisbane Times' here, and WAtoday's here.
Most Viewed in Politics
From our partners
Source: Read Full Article